Podcast: Play in new window | Download
Subscribe: Apple Podcasts | Google Podcasts | Spotify | Stitcher | TuneIn | RSS

In this episode of The Plant Trainers Podcast, we talk with Dr. Tushar Mehta about all the confusion surrounding nutrition. He is extremely talented at analyzing research, deciphering whether or not it is 'good research' and explaining the outcomes for all to understand. Dr. Mehta helps clarify some of the confusion people are experiencing around nutrition. We break down the different camps of plant-based nutrition, low fat, low carb, and gluten-free diets, and whether or not to choose almond milk over soy milk and vice-versa. And of course, we look at the clear evidence on the soy debate and whether or not the estrogen in soy can harm our human bodies.
Dr. Tushar Mehta studied at McMaster University and then completed medical school and residency at the University of Toronto. Currently, he practices Emergency Medicine in Greater Toronto Area, Canada. For many years, on an annual basis, Dr. Mehta volunteered in medical camps in the Kutch district of India and currently volunteers with a project in Haiti.
In addition to humanitarian projects, Dr. Mehta takes a strong interest in the medical evidence and environmental science regarding plant-based diet and health and is an expert on the subject. He lectures on the topic in Canada and abroad, and is passionate about the interconnectedness of human, animal, and environmental wellbeing.
In this episode we discuss:
Canadian doctors and health practitioners representing

Nutrition is confusing

Reading scientific papers

Objectivity vs subjectivity

Which plant-based camp is right?

Is it low fat or unlimited carbohydrates?

Gluten-free diet

Fat and hormones

Is low fat really good for you?

Oil-free, trans fats, animal fats.

Soy milk or almond milk

Soy – yay or nay?

Plant estrogens

Soy and cancer

Estrogen in animal products
Links to things we mentioned:
Our awesome t-shirts
Dr. Tushar Mehta – YouTube video, Reference list, Facebook, Instagram
Thank you to this month's Patrons for supporting us on Patreon:
"Joe"
Millie Pearson
Mary Lou Fusi
Carmen Fanous
Emily Iaconelli
Spanish Armada
Michele Olender


Don't forget to contact us at info@planttrainers.com with your question for our Plant Trainers Facebook Lives!
We hope you enjoyed this podcast! Please take a moment and leave us a rating and review over on Apple Podcasts – we would be grateful! This will help get our podcast out to others who may enjoy it. We promise to read your reviews and consider your feedback. This show is for you.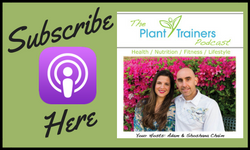 Please subscribe to The Plant Trainers Podcast on your favorite podcasting platform.



Help us by spreading the news about our totally awesome Podcast!
Click here for a list of our services