Podcast: Play in new window | Download
Subscribe: Apple Podcasts | Google Podcasts | Spotify | Stitcher | TuneIn | RSS
In today's episode of The Plant Trainers Podcast we talk about swaps…get your head out of the gutter, that's not what we mean. We talk about kitchen swaps and food alternatives to make you healthier and more environmentally friendly.  While listening to this one – make sure you have a pen and paper because there are so many awesome tips that we share!  
We hope you enjoy the show!
In this episode we discuss:
Our quote of the day: "

We are what we repeatedly do. Excellence, therefore, is not an act but a habit." ~Aristotle

The power of kitchen swaps & food alternatives

Plastic containers

Bought lemon juice

Kettles

Paper napkins and paper towel

Plastic baggies

Chemical cleaners

Drinks: Coffee, Cola, Milk and Wine

Snacks: Chips, Chocolate, Cookies/Cakes and Yogurt

Spreads: Peanut Butter, Butter, Cream Cheese

Miscellaneous: Table Salt, Salad Dressings and Oil

Meals: White Rice, Eggs, Ground Meat/Soy Grounds, Cereal, Grains
Links to things we mentioned:
Coffee Alternatives to Boost Energy – PTP076
Tip for a Healthy Breakfast – PTP068


Don't forget to contact us at info@planttrainers.com with your question for our Plant Trainers Facebook Lives!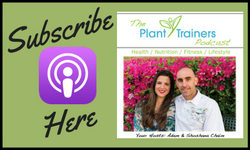 We hope you enjoyed this podcast! Please take a moment and leave us a rating and review over on Apple Podcasts – we would be grateful! This will help get our podcast out to others who may enjoy it. We promise to read your reviews and consider your feedback. This show is for you.
Please subscribe to The Plant Trainers Podcast on Apple Podcasts, Stitcher, iHeart Radio or Player.FM so you will know when we release a new episode. We're also available to Listen on Google Play Music!
Help us by spreading the news about our totally awesome Podcast!
Click here for a list of our services