Podcast: Play in new window | Download
Subscribe: Apple Podcasts | Google Podcasts | Spotify | Stitcher | TuneIn | RSS

In today's episode of The Plant Trainers Podcast, we talk to David Chandler about running across America and wilderness therapy. When we first learned about David, we had a lot of questions. Did he run or walk across America? Did he do it consecutively? Was it self-supported? What was going on with this guy to give him the tenacity to do it? After hopping on the phone for a quick conversation, we quickly learned the David had a lot of strength both in his running abilities and character that we knew we wanted to share with you. From the planning that took place, to the logistics around food and accommodation, to his hopes of bringing attention to wilderness therapy, there are lessons to be taken away from this episode that can show almost anyone that if you want something badly enough, it is indeed possible.
David is a plant-based ultramarathoner. His passions are running, nature and helping others. For the last three years, he has worked as a wilderness therapy guide at SUWS of the Carolinas with kids with mental health and substance abuse struggles. SUWS helps empower kids through the lens of nature and teaches communication and coping skills. As you will hear, David recently spent time running across America. He ran 2900 miles across America from Santa Monica, CA to Wrightsville Beach, NC to raise money for scholarships for low-income students to attend SUWS. He has raised $11,000 so far. David continues to run ultramarathons to raise money for these kids he still works with.
In this episode we discuss:
David Chandler

Running for punishment running 🏃🏽

Becoming Plant-Based 🌱Paleo 🐮

Ultra and endurance sports 🏃🏻‍♂️

Running across America

From California 🌊 to North California 🏠

The baby stroller  👶🏻

Food 🍎

The deeper meaning 🤔

Wilderness guide 🌲

Nature heals people 🌷

Recovery 😴

Actionable tips for helping yourself and others
Links to things we mentioned:
Thank you to our sponsor Four Sigmatic Foods. They make drinking mushrooms delicious and easy with a variety of superfood beverages from coffees to matcha to hot cocoa and more! Visit www.foursigmatic.com/planttrainers and enter the promo code "planttrainers" for 15% off on your order!
David Chandler – Instagram, Facebook
David's Fundraiser
David's New Fundraiser – Biking Across America (2019)
Thank you to this month's Patrons for supporting us on Patreon:
"Joe"
Millie Pearson
Mary Lou Fusi
Carmen Fanous
Emily Iaconelli
Spanish Armada
Michele Olender


Don't forget to contact us at info@planttrainers.com with your question for our Plant Trainers Facebook Lives!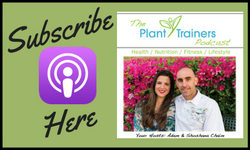 We hope you enjoyed this podcast! Please take a moment and leave us a rating and review over on Apple Podcasts – we would be grateful! This will help get our podcast out to others who may enjoy it. We promise to read your reviews and consider your feedback. This show is for you.
Please subscribe to The Plant Trainers Podcast on Apple Podcasts, Stitcher, iHeart Radio or Player.FM so you will know when we release a new episode. We're also available to Listen on Google Play Music and Spotify!
Help us by spreading the news about our totally awesome Podcast!
Click here for a list of our services