Print
As you may know, I am constantly looking for the best information and natural products that help you stay fit and healthy so I was thrilled to learn about ENERGYbits which are quickly becoming the fuel of choice for runners and endurance athletes. ENERGYbits high concentration of protein provides a steady stream of energy that prevents fatigue and their high concentration of antioxidants and Omega 3 reduce inflammation and muscle soreness. Remarkably ENERGYbits have just one ingredient, organically grown spirulina algae. Not only has spirulina algae been a favorite of Olympic athletes for decades, it is the most environmentally sustainable food in the world and has been endorsed by the United Nations, World Bank and NASA since the early 1970's.
I'm not aware of anything that offers your body and the environment the blend of benefits you get from ENERGYbits so I am excited to be working with them. I hope you'll try them soon and when you do, use my promotional code PlantTrainers to get a 25% DISCOUNT! You can only purchase them online at www.energybits.com so when you check out, just enter discount code PlantTrainers into the coupon box and your discount will immediately show up on screen. The discount works on all products and they ship to Canada.
The company explained why ENERGYbits have become so popular with runners and triathletes:
When a handful of ENERGYbits are swallowed 10 -15 minutes prior to a workout or run, they provide a steady flow of energy, eliminate fatigue and speed recovery, all naturally and all without digestive distress. The reason is simple. ENERGYbits do not contain any caffeine, sugar or chemicals yet they have the highest concentration of protein in the world (64%), all in amino acid form which are absorbed instantly to provide a steady flow of glucose. ENERGYbits also contain 40 vitamins/minerals, natural nitric oxide to open blood vessels, antioxidants to fight free radicals, Omega 3 to reduce inflammation, iron to prevent fatigue and electrolytes to prevent dehydration. All this from just one ingredient –organic spirulina and all for just one calorie per tab.
Adam Chaim
~ Plant Trainers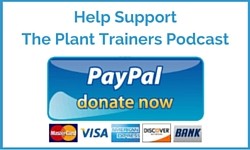 Don't forget to contact us at info@planttrainers.com with your question for our "Hey Plant Trainers" segment!
Do you want to create lifelong healthy eating habits for you or your family? Are you looking to help prevent heart disease, cancer and chronic diseases? Are you looking for guidance with your plant-based nutrition? We can help. If you are serious about getting results, you may be eligible for a FREE 30-minute Skype or phone consultation, where we can help you with your goals NOW. Easily book your session HERE. 
Subscribe to Adam's Journey by clicking here.
We hope you enjoyed this podcast! Please take a moment and leave us a rating and review over on iTunes – we would be grateful! This will help get our podcast out to others who may enjoy it. We promise to read your reviews and consider your feedback. This show is for you.
Please subscribe to The Plant Trainers Podcast on iTunes, Stitcher or Player.FM so you will know when we release a new episode. Now also available to Listen on Google Play Music!
Help us by spreading the news about our totally awesome Podcast!
Click here for a list of our services