Print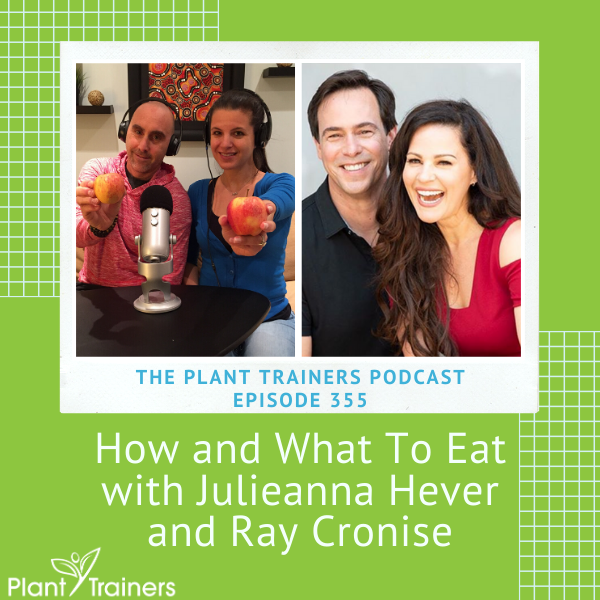 Podcast: Play in new window | Download
Subscribe: Apple Podcasts | Google Podcasts | Spotify | Stitcher | TuneIn | RSS

In this episode of The Plant Trainers Podcast, we talk with Julieanna Hever and Ray Cronise authors of The Healthspan Solution: How and What to Eat to Add Life to Your Years. Julieanna was on the show in episode 41 and Ray is a first-timer. If you like details and science, you're going to love this one! Here we redefine calories and energy and discuss how to be more nourished and what we need to be eating every day!
Julieanna Hever, MS, RD, CPT, The Plant-Based Dietitian, has a BA in Theatre and MS in Nutrition, bridging her biggest passions for food, presenting, and helping people. She has authored five books, including the new Healthspan Solution, Plant-Based Nutrition (Idiots Guide), and The Vegiterranean Diet, and two peer-reviewed journal articles on plant-based nutrition for healthcare professionals. She was the host of What Would Julieanna Do?, gave a TEDx talk, and instructed for the eCornell Plant-Based Nutrition Certification Program. She's appeared on Harry, The Dr. Oz Show, and The Steve Harvey Show. Julieanna is a Registered Dietitian, Co-Founder and Nutrition Director for Efferos, co-host of Science and Saucery Podcast, Home Sweat Home on Facebook Watch, and her focus is on sharing a plant-based diet message of health and happiness.
Ray Cronise, BSc, is a scientist-innovator focused on diet and nutrition and co-founder of Lifestyle Reauthored, a lifestyle transformation company. He co-authored Plant-Based Diet (Idiot's Guide) 2E with Julieanna Hever and is the mastermind behind Las Vegas magician, Penn Jillette's plant-based diet 100-pound weight loss. He is a former NASA scientist and Matthew Kenney and Blue Lotus Culinary graduate. He's collaborating with leading academic researchers at institutions such as Harvard and the NIH to publish work at the intersection of healthspan and plant-based diets. He's been featured in Wired Magazine, TEDMED 2010, ABC Nightline, The Atlantic, The Daily Beast, Men's Journal, The Guardian, Presto, How I made 100 pounds magically disappear, and The 4-Hour Body.
In this episode we discuss:
Not defending plant-based

Excess vs deficiency

Food doesn't equal energy

Superfluous calories

People die of overnutrition

What people should eat

Why we are more reproductive

More overnourished people the indeniuisjed

Plant-based in the 1700s

6 daily 3's

Vitamins

Omegas, Ala, EPA, DHA

Metabolism of food
Links to things we mentioned:
Yummy Kids Activity Book for Kids
Putting an End To Plant-Based Picky Eaters
Julieanna Hever – Website, Instagram, Facebook, Twitter
Ray Cronise – Website, Instagram, Facebook, Twitter
The Healthspan Solution: How and What to Eat to Add Life to Your Years
The Plant-Based Dietitian, Julieanna Hever – PTP041
The "Metabolic Winter" Hypothesis: A Cause of the Current Epidemics of Obesity and Cardiometabolic Disease (Metab Syndr Relat Discord, 2014)
Plant-Based Nutrition (Idiot's Guide) 2nd Edition
Plant-Based Diets: A Physician's Guide (Perm J 2016)
Plant-Based Nutrition for Healthcare Professionals (J Geriatr Cardiol 2017)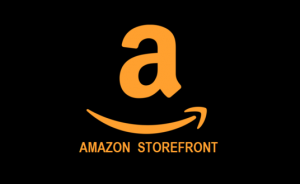 Thank you to this month's Patrons for supporting us on
Patreon
:
Millie Pearson
Mary Lou Fusi
Emily Iaconelli
Spanish Armada
Dan Pokorney
Mark Jeffrey Johnson


Don't forget to contact us at info@planttrainers.com with your questions!
We hope you enjoyed this podcast! Please take a moment and leave us a rating and review over on Apple Podcasts – we would be grateful! This will help get our podcast out to others who may enjoy it. We promise to read your reviews and consider your feedback. This show is for you.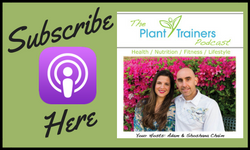 Please subscribe to The Plant Trainers Podcast on your favorite podcasting platform.



Help us by spreading the news about our totally awesome Podcast!
Click here for a list of our services