Print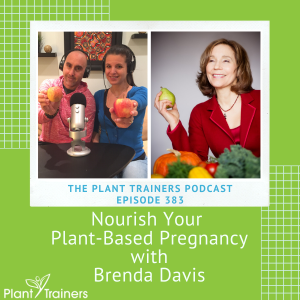 Podcast: Play in new window | Download
Subscribe: Apple Podcasts | Google Podcasts | Spotify | Stitcher | TuneIn | RSS

In this episode of The Plant Trainers Podcast, we talk with Brenda Davis all about plant-based pregnancy and her new book Nourish. If you are wondering if a plant-based pregnancy is safe, what the risks are, and how to make sure you are getting all your micronutrients, then you will not be disappointed. Brenda gives scientific support on how to manage a plant-based pregnancy and if a raw food diet should even be an option. And of course, she talks about the best options for formula if breastfeeding is a non-option and what you need to know about solids, fats, and nuts when the baby starts eating foods. Please share this with anyone in childbearing years (or their parents), as this knowledge is very important for them. 
Brenda needs no introduction as she has been a guest on the show before and is so widely known and respected… But here is what you should know in case she is new to you. Brenda Davis, registered dietitian, is a pioneer in plant-based nutrition and an internationally acclaimed speaker. As a prolific nutrition and health writer, she has co-authored 12 books with nearly a million copies in print in 15 languages. Her most recent works include Nourish with pediatrician Dr. Reshma Shah (to be released TODAY Nov. 2020), Kick Diabetes Essentials (2019), and The Kick Diabetes Cookbook (2018). Brenda has been the lead clinical nutrition specialist in lifestyle medicine research and demonstration programs in the Marshall Islands and Lithuania. 
In this episode we discuss:
Is the vegan and vegetarian diet safe for pregnancy?

How to talk to your doctor 

Omegas, conversions, choline, and protein

Canada's Food Guide 

What about fish and eggs? 

Raw pregnancy 

Formula information 

Fat and solid foods 

Nuts and allergies 

Nourish: The Definitive Plant-Based Nutrition Guide for Families
Links to things we mentioned:
Putting An End To Plant-Based Picky Eaters
Brenda Davis – Website, Instagram, Facebook, Twitter
Nourish The Book –  Website, Instagram, Facebook
Nourish: The Definitive Plant-Based Nutrition Guide for Families–With Tips & Recipes for Bringing Health, Joy, & Connection to Your Dinner Table by Reshma Shah & Brenda Davis
The Paleo Debate with Brenda Davis R.D. – PTP210
Plant-Based Paediatrics with Dr. Reshma Shah – PTP270
Optimizing Plant-Based Nutrition with Reshma Shah, MD – PTP379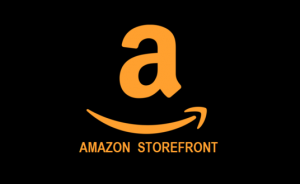 Thank you to this month's Patrons for supporting us on
Patreon
:
Millie Pearson
Mary Lou Fusi
Spanish Armada
Mark Jeffrey Johnson


Don't forget to contact us at info@planttrainers.com with your questions!
We hope you enjoyed this podcast! Please take a moment and leave us a rating and review over on Apple Podcasts – we would be grateful! This will help get our podcast out to others who may enjoy it. We promise to read your reviews and consider your feedback. This show is for you.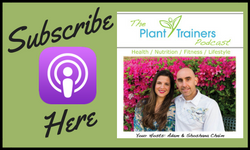 Please subscribe to The Plant Trainers Podcast on your favorite podcasting platform.

Help us by spreading the news about our totally awesome Podcast!
Click here for a list of our services