Print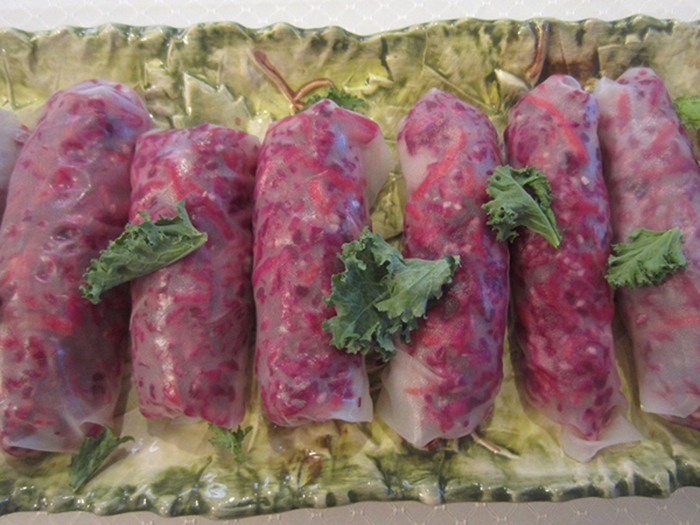 This is always a hit at my table. It's not even that much work. It gets easier and faster as you roll.
Don't forget to buy your rice paper spring roll wrappers!
The ones I used were about 5 inches in diameter. I used 20 wrappers and had extra filling to add to a salad the next day.
Slaw Filling
5 cups of grated purple cabbage
3 grated medium sized carrots
2 tbsp hemp hearts
3 tbsp flax oil
1 tbsp sesame seeds
1 tbsp apple cider vinegar
1/2 tsp salt (or add more to taste)
place the cabbage through the top of the processor with the grating blade in (or by hand)
grate carrots the same way
in a blow, mix all ingredients together with a spoon
cover and let sit for 20 min or overnight in the fridge
make your tahini sauce while you wait (see the bottom of this post) – You'll have time to clean up too!
soak wrapper in very warm water until soft, about 30 seconds
place wrapper on a flat surface like a cutting board and use a clean towel to dab away access water from the top
now it is time to start soaking your next wrapper
place a heaping tablespoon of the slaw filling in the middle of the wrapper
arrange it so it makes a rectangular shape starting near your belly and ending away from you
(I like to make my first one with a bit less filling and then add more the next time. This helps me get a feel for how much I can add without the wrap exploding! It depends how good of a wrapping job I am doing that day!)
gently fold over the the side near your belly and across from you
gently grab the left or right side and fold over the filling and try to tuck it back under the filling a bit too.
bring the other side over with a bit of a tug to make the wrap nice and snug
place the roll seam side down on the serving plate
REPEAT!
Tahini Sauce
1/2 cup tahini
1/2 cup water
1/3 cup fresh lemon juice
4 garlic cloves
1 tsp sea salt
1 tsp fresh parsley
Blend all ingredients together and enjoy.
Shoshana Chaim
~ Plant Trainers
I like to serve this sauce in a martini glass with a dainty spoon. This, of course, is up to you!
Click here for a list of our services