Print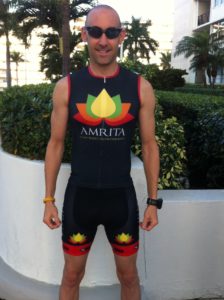 I grew up in Montreal, Canada. I currently live in Toronto, Canada and lived for two years in Hong Kong. I have two amazing kids and a beautiful and supportive wife (we've been married for 11 years).
I have been teaching high school health and physical education for the past 15 years. I am the athletic director in the school managing over 25 teams and currently coach hockey and flag football. I am a personal trainer and a plant-based athlete.
Here is more background on my recent journey that brought me to where I am today:
My journey began just over 3 years ago when I had a sharp pain running down my left side of my upper body. I went to emergency and they did an ultrasound. They didn't find anything. About a week later I got a call from my Dr and he told me they found a tumor on my kidney. He said I had a few options as far as surgeons. I was not pleased and not ready to get cut open. I contacted a friend of mine who had a connection to the best Cancer Hospital in Toronto and I was set up to see one of the top Drs and surgeons around. We did a biopsy and turned out it was benign. About a week later, I got a call from that same "top" Dr, he told me the biopsy also showed I likely have a disease called Von-Hippel Landau (a very rare genetic disease). Don't look it up…it isn't good stuff. He told me my chances of living past 40 are next to none (good bedside manner). At the time my son was 2 and I just learned my wife was pregnant. Needless to say I was devastated. Every time I looked at my son, I cried. I just kept thinking that I didn't want him growing up without his father.
Around that same time, I was reading "Thrive" by Brendan Brazier and I was intrigued by the plant-based lifestyle. I began to run…run a lot. Half-marathons, Marathons and I signed myself up for The Ride To Conquer Cancer (a 200km bike ride from Toronto to Niagara Falls). At the same time I also decided the start going plant-based. Everyone thought I was crazy. I then decided I would get into triathlons (only problem…I didn't know how to swim – at all). I survived my first triathlon and am now signed up for my first Ironman in Texas May 2014.
I had been going for routine follow-ups every 3 months. There was no change to the tumor. I spoke with a neurologist friend who said I should have my eyes checked as they'd know if that disease existed in me. I went and had a detailed retinal exam. She told me all was ok. I felt a bit better and decided my oncologist was wrong.
My 3 month check-ups turned into 6 months and then 1 year and currently he doesn't want to see me for 2 years. All good! What I forgot to mention is that the last time I went for my check-up, the tumor had actually decreased in size. I also went back to my optometrist and after a year my arteries were much clearer. Both Drs couldn't understand how my eyes were getting better and my tumor was getting smaller. The only explanation I can give was the change in my lifestyle. The whole food plant-based lifestyle that I adopted has made a huge difference for me!
I am a healthy athlete, my family is healthy…we are all plant-based.
I am very excited for 2014 and honored to be a part of the Amrita family.
Adam Chaim

Don't forget to contact us at info@planttrainers.com with your question for our "Hey Plant Trainers" segment!
Do you want to create lifelong healthy eating habits for you or your family? Are you looking to help prevent heart disease, cancer and chronic diseases? Are you looking for guidance with your plant-based nutrition? We can help. If you are serious about getting results, you may be eligible for a FREE 30-minute Skype or phone consultation, where we can help you with your goals NOW. Easily book your session HERE. 
Subscribe to Adam's Journey by clicking here.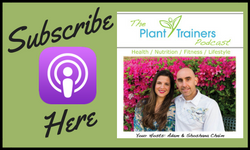 We hope you enjoyed this podcast! Please take a moment and leave us a rating and review over on iTunes – we would be grateful! This will help get our podcast out to others who may enjoy it. We promise to read your reviews and consider your feedback. This show is for you.
Please subscribe to The Plant Trainers Podcast on iTunes, Stitcher or Player.FM so you will know when we release a new episode. Now also available to Listen on Google Play Music!
Help us by spreading the news about our totally awesome Podcast!
Click here for a list of our services