Print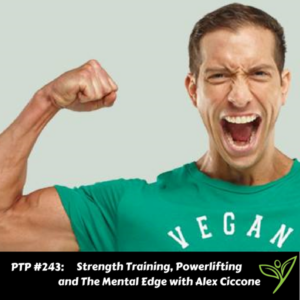 Podcast: Play in new window | Download
Subscribe: Apple Podcasts | Google Podcasts | Spotify | Stitcher | TuneIn | RSS

In today's episode of The Plant Trainers Podcast we talk to Alex Ciccone about strength training, powerlifting and the mental edge. Alex has an amazing presence in the Instagram world and we have been following each other for a while. We were able to meet face to face at the Animal Justice event in December and immediately hit it off.
Today we talked about a few interesting things. We talked about his journey to Veganism, his soccer career and how he got into men's physique and powerlifting competitions. We hit the topics of nutrition for building muscle as well as the "P" word…protein. Whether you're 15 or 50 there is something to be taken away in this episode. It's a good share for anyone who hits the gym.
Alex Ciccone is a vegan lifestyle social media influencer who found his love for spreading awareness soon after going vegan over 4 years ago. His primary reason was for the ethical treatment of animals. Alex provides education and entertainment through different creative content across Instagram, his blog, Facebook, Twitter and Snapchat (and coming soon a YouTube channel). Whether it be vegan infographics, news stories, memes and everything between, for Alex it's about keeping things positive and loving. He wants to not only align with vegan values, but also to reach as many individuals as possible and help in their journey to being or becoming vegan.
Alex has a particular interest in fitness as he grew up playing competitive level soccer. After falling in love with strength training, he became a certified personal trainer. Fitness is a very important part in his story of becoming vegan – as he uses this motivation to debunk the myth that vegans are "weak and malnourished". That lead Alex to compete in a men's physique competition as a vegan and pursue powerlifting. At the end of the day it is always about spreading awareness for Alex – to show all the amazingness that the vegan lifestyle has to offer!
In this episode we discuss:
Win, win, win

Growing up playing soccer

Animal-based protein

The vegan journey and people's reactions

The fluffy bunny

The mental edge and change

Teens and making good choices

Complete protein

Men's physique and powerlifting

Supplements

Creatine

Infographics

Hunger cues

How can parents help?

How can teens help?

Finding your why
Links to things we mentioned:
Thank you to our sponsor, Health IQ. To see if you qualify, get your free quote today at healthiq.com/planttrainers or mention the promo code "Plant Trainers" when you talk to a Health IQ agent.
Adam on Strava
Our Instagram
Alex Ciccone – Website, Instagram, Facebook, Twitter, Snapchat
Vegans Are Weak and Malnourished – 1 Rep Max Test 
Thank you to this month's Patrons for supporting us on Patreon:
"Joe"
Millie Pearson
Mary Lou Fusi
Carmen Fanous
Emily Iaconelli
Spanish Armada
Michele Olender


Don't forget to contact us at info@planttrainers.com with your question for our Plant Trainers Facebook Lives!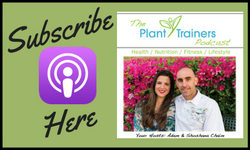 We hope you enjoyed this podcast! Please take a moment and leave us a rating and review over on Apple Podcasts – we would be grateful! This will help get our podcast out to others who may enjoy it. We promise to read your reviews and consider your feedback. This show is for you.
Please subscribe to The Plant Trainers Podcast on Apple Podcasts, Stitcher, iHeart Radio or Player.FM so you will know when we release a new episode. We're also available to Listen on Google Play Music!
Help us by spreading the news about our totally awesome Podcast!
Click here for a list of our services