Print

Podcast: Play in new window | Download
Subscribe: Apple Podcasts | Google Podcasts | Spotify | Stitcher | TuneIn | RSS
In today's episode of The Plant Trainers Podcast, we talk to Margaux Khoury, the CEO of The Best Deodorant In The World, about the impact of plastic and deodorant on your body and the environment. We take a look at how not only the ingredients but the packaging of cosmetics such as deodorant can be harmful. We celebrate how there are some companies that are truly looking to maintain integrity when it comes to its consumers' health, but who also leverage their success to make the world a better place.
Creator and lover of plant-based and vegan companies, Margaux is the founder and CEO of one of the organic, natural and cruelty-free deodorants, "The Best Deodorant In The World", a company she started out of her kitchen. Its mission is to turn a necessity like deodorant into a force for social impact. Margaux is also an author and certified doula. Margaux understands the importance of eliminating toxins from our lives while living happily and sustainably without harming our bodies, animals or the planet.
In this episode we discuss:
Inspiration for a compassionate life

Deodorant vs antiperspirant

Conventional deodorant and our body

Why is the world best deodorant really better

3 causes – helping children, animals and the environment

Challenging others think plastic free

Plastic and your body

Plastic and the environment

What you may not know about plastic

Actionable tips for eliminating plastic in your life

Message for the masses
Links to things we mentioned:
The Best Deodorant In The World – Website, Instagram, Facebook, Twitter
The Food Guide Policy Progress with Anna Pippus – PTP242
Thank you to this month's Patrons for supporting us on Patreon:
"Joe"
Millie Pearson
Mary Lou Fusi
Carmen Fanous
Emily Iaconelli
Spanish Armada
Michele Olender


Don't forget to contact us at info@planttrainers.com with your question for our Plant Trainers Facebook Lives!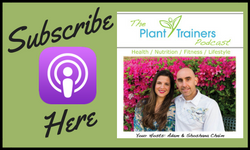 We hope you enjoyed this podcast! Please take a moment and leave us a rating and review over on Apple Podcasts – we would be grateful! This will help get our podcast out to others who may enjoy it. We promise to read your reviews and consider your feedback. This show is for you.
Please subscribe to The Plant Trainers Podcast on Apple Podcasts, Stitcher, iHeart Radio or Player.FM so you will know when we release a new episode. We're also available to Listen on Google Play Music!
Help us by spreading the news about our totally awesome Podcast!
Click here for a list of our services