Print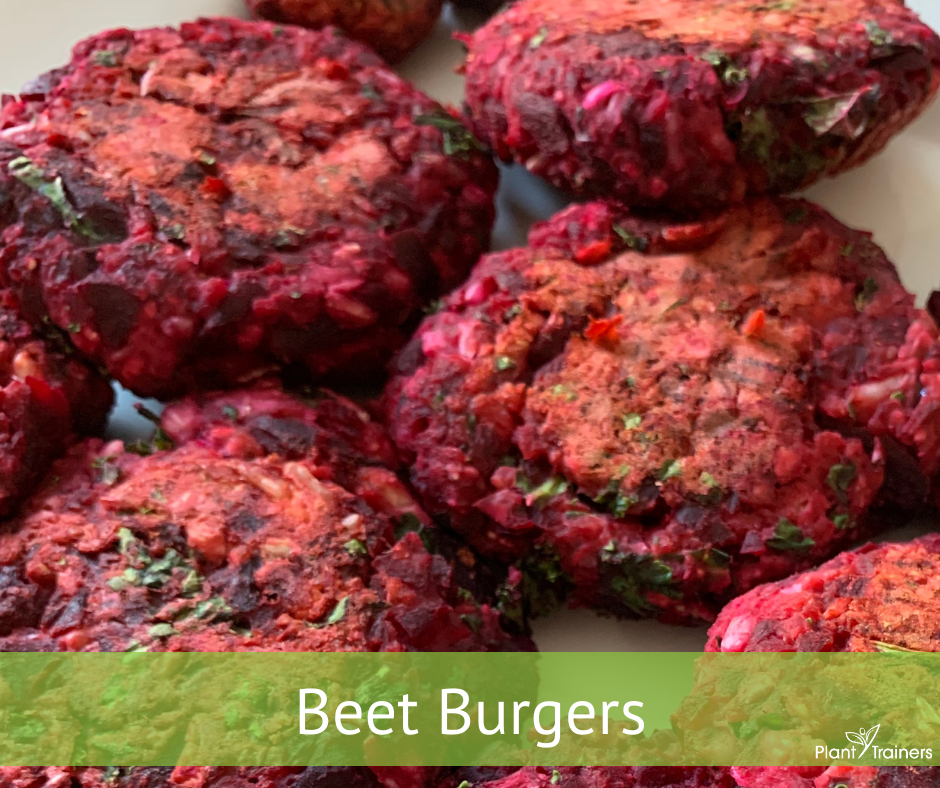 These beet burgers have been a huge hit in our house and with everyone we've shared them with! It makes our hearts sing. That's a pun because beets help your blood work so much more efficiently. This recipe makes about 15 burgers and can be frozen and of course you can half it or double it if you'd like! Here is the recipe for the best beet burger ever!
Ingredients:
500 grams of pre-cooked Beets (about 4 averaged sized beets, you can roast/steam them yourself if you'd like

1 cup of chopped kale

3 cloves of garlic chopped

1 cup of nutritional yeast

2 cups of cooked brown rice or quinoa

2 cups of rolled oats

Two tablespoons of onion flakes/powder

2 tablespoons of garlic flakes/powder

2-15 oz cans of kidney beans or great north beans or some kind of soft beans
Directions:
Preheat oven to 400ºF (if baking – we don't usually do it this way, but it can be done…monitor)

Place garlic and kale in the processor so it gets chopped

Coarsely chop pre-cooked beets add them to the processor and process some more

Be careful not to over-process so it does not become liquified

In a large bowl combine rice, oats, nutritional yeast, onion, and garlic flakes and mix well

Add beans and squeeze it all together with your hands so that it sticks with the grains

Add the beet mixture and do the same, you may want to wear rubber gloves

Make patties

Cook for five minutes each side on a non-stick pan or bake in the pre-heated oven

Eats well on a whole wheat bun with grilled pineapple and your favourite toppings!
Enjoy!
You may also enjoy our Sweet Potato & Almond Burgers
~ Plant Trainers