Print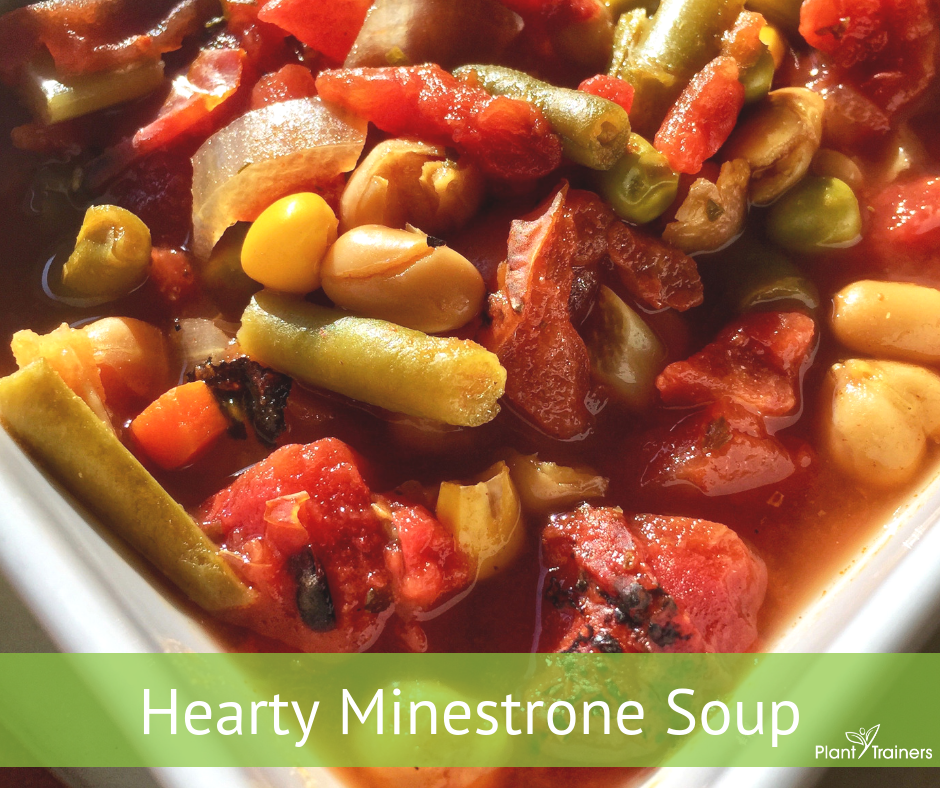 This hearty minestrone soup is a great way to get more veggies into your diet to up your immune system. The key to this recipe is using up all the odds and ends of fresh and or frozen veggies you have lying around the house. So if you don't have everything on the list, just substitute. Try using black beans instead of chickpeas, celery instead of corn, zucchini or mushrooms instead of green beans. Just about anything goes!
To give it even more heartiness, you can lay down a bed of spinach before filling the bowl or add leftovers grains from the fridge to the bowl too. Once you make it once, we suggest doubling the recipe…for good measure and lots of yummy eat in or school & work meals for the family.
Ingredients:
1 medium onion, diced

4 cloves of garlic, chopped
2 carrots, diced
2 celery ribs, diced
1 medium potato, diced
1 cup green beans or zucchini diced
1 cup corn nibs
1 28 oz can diced tomatoes (Fire Roasted works nicely too)
1 can or 2 cups of cooked chickpeas or black beans
1 tsp basil
4 cups veggie broth
Stove Top Directions:
Add onion, garlic, carrots, and celery to the pot and saute for about 5 min

Add remaining ingredients and stir

Cover and let simmer for about 30 min until carrots and potatoes are tender.
Directions For the Instant Pot:
Turn it on sauté and throw in the onions and garlic carrots, and celery for about 3 minutes.

Add remaining ingredients and stir

Cover the pot and set for 5 minutes on manual. Quick release when it's done
Enjoy!
~ Plant Trainers