Print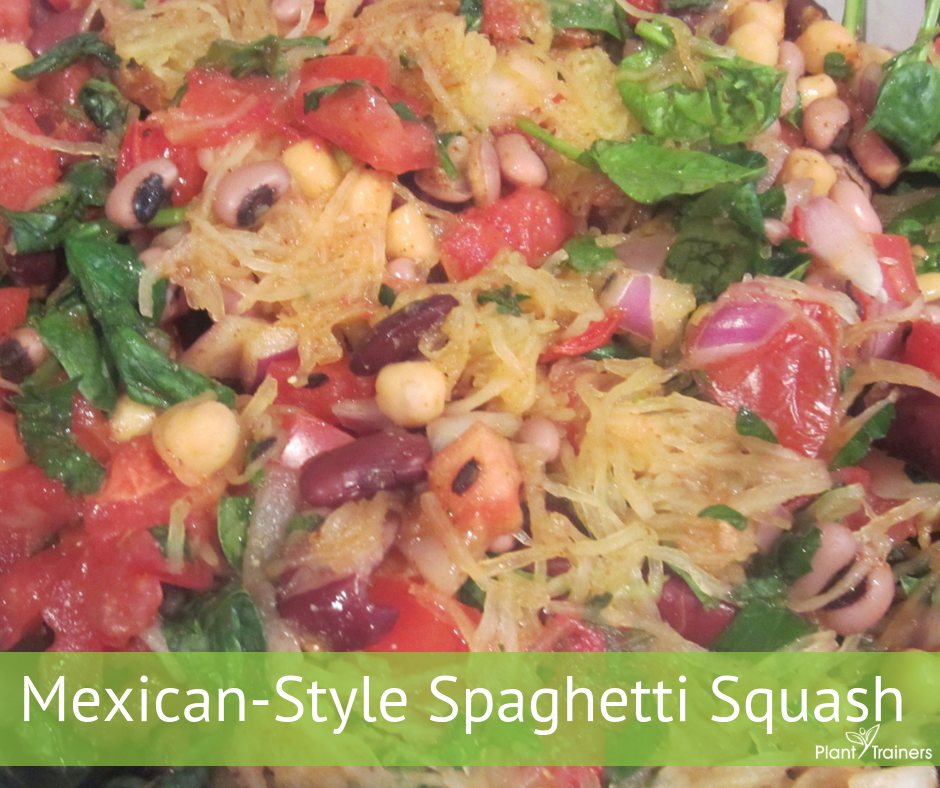 This Mexican-Style Spaghetti Squash is so yummy. It is fresh tasting and packed with flavour. You can easily increase the amount of any of the vegetables. It is a one dish wonder. Serve with a side of guacamole and organic tortilla chips. You can even add some cashew cream. I also put the crushed chilli peppers on the table for those who like it spicy!!
Ingredients:
1 large spaghetti squash
3 cups spinach or kale, chopped
5-6 Italian tomatoes, dices
1 red onion, diced
2 cups of beans of choice (black beans work well)
3 Tbsp nutritional yeast
3 tsp chilli pepper
1.5 tsp cumin
salt & pepper to taste
¾ cup of faux cheese (if desired) for topping
Directions:
Cut the spaghetti squash in half and place open side down in an oven-safe glass dish with about an inch of water. Bake at 350° for about 30 minutes. When it is ready discard the seeds and use a fork to separate the "spaghetti" type strands from the skin.
Combine all the ingredients except for the 'cheese' in an oven-safe dish and toss it well. Bake covered at 350° for about 30 minute. Remove the cover, top it off with 'cheese' if you like and bake for another 5-10 minutes, uncovered, until the 'cheese' is melted.
Enjoy!
~ Plant Trainers