Print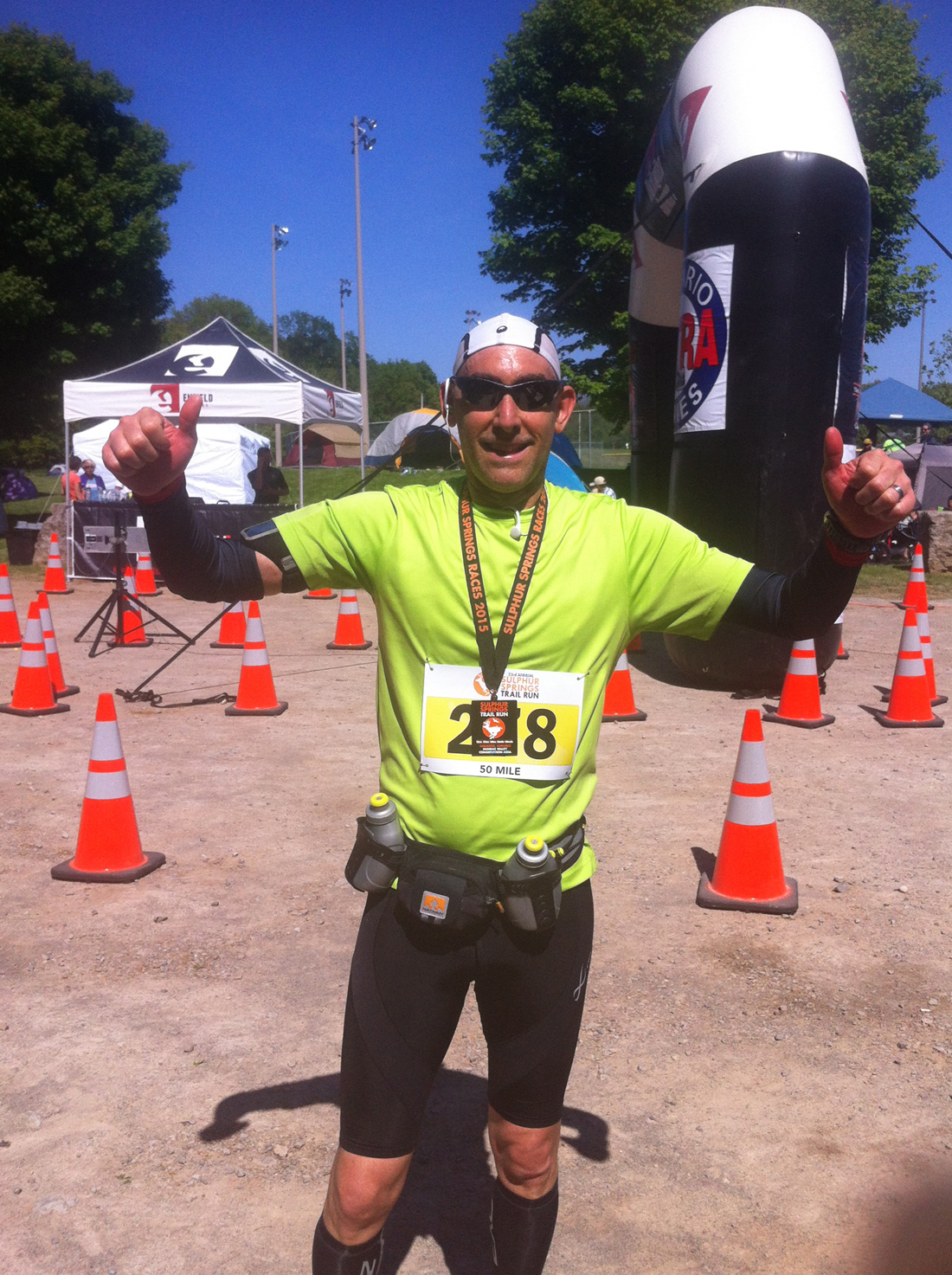 Today is Saturday May 23, 2015 and I experienced my first Ultra Trail Run and yes you read it correctly…50 miles (80km)!  Here's how it went down…
After the kids finished school yesterday, we packed up the car for our hour drive to the hotel we stayed in which is located about 10 minutes from the race site.  To be quite honest, the hotel was a complete dump.  Funny how the pictures online make it look quite nice and respectable, but the reality is that it's a dirty, old, shady place.  We checked in and got settled so I could get to bed as early as possible as my alarm was set for 4am so I could eat breakfast and get us to race kit pick up which was at 5am.  I must admit, even though the hotel was sub-par, we as a family managed to make the best of it and have a fun night.  I slept pretty well considering I kept getting kicked and elbowed by my son with whom I shared the bed (of course he doesn't remember any of that).  We packed up the car and headed to the race kit pick up.
We got a great parking spot close to the start line.  It was freezing outside, about 1ºC and I couldn't feel my fingers or toes.  Everyone stayed in the heated car while I went to pick up my bib and shirt as well as drop off my special needs bag at the drop off point (which I would pass after each lap).  When I came back, I got fully dressed and ready to race.  I ate my ENERGYbits and drank some Vega Workout Sugar-Free Energizer.  I also downed a shot of beet juice that Shoshana made for me.  I didn't have much time as somehow the time went by really quickly and before I knew it, it was almost 6am and time for me to get to the start line.  Did I mention it was freezing?
The Sulphur Springs 50 mile trail run was made up of 4 laps of 20km each.  My race wasn't the only one of the day; there was a 10km, 25km, 50km, 50 mile, 100 mile and a 100 mile relay.  My race and the 100 miler started at 6am, while the others started a bit later in the day.
As I left, my family was cheering me on and I planned to see them again after each lap (which I did…and that was awesome).  The first 20km went by quite quickly.  I tried very hard to keep it slow and I think I did a pretty good job at doing so.  With my Nathan hydration belt loaded with my Amrita Bars, Artisana nut butter and Vega sport hydrator, I was on my way to joining the 50 mile trail run club!  It was such a cold start that I seriously couldn't feel my hands until about lap 3, which at that point the sun was up and the heat was turning up.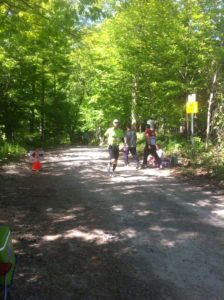 Throughout each 20km lap there were a couple of aid stations set up (which I'd pass twice each on the same lap) and the volunteers working those stations were incredible.  They had tons of great things to eat (and not only the typical gels).  They had real food!  They offered things like almonds, watermelon, cantaloup, bananas, potatoes and that's just what I noticed.  I'm sure they had junkier options, but it's funny how my brain didn't really notice them.  Thanks to all of you who re-filled my bottles and provided me with extra food!  Thanks to all the volunteers directing traffic and pointing me in the right direction on the trails…I know all the runners really appreciate it!  The Sulphur Springs trail run was super well organized and I highly recommend it for anyone interested in doing a trail run.
Near the end of the 2nd lap, I was feeling quite good, but I hit a root and turned over my left ankle.  I was able to stay on my feet, but it was super painful.  I continued to run through it, thinking if I stop and take off my shoe, it may balloon and my race would be done.  The pain dissipated and I tried my best to forget about it.  But part way through the 3rd lap, my ankle started to bother me and I started to feel a pain under that same foot (like a plantar fasciitis kind of feel).  I decided to slow down and wait out the pain before continuing to push on.  The time wasn't that important to me, I really just wanted to finish the race.  Each time I approached the turnaround/finish line, my family was there cheering me on and running a bit with me…they were awesome!
The 4th lap was super tough, but I knew I was so close.  I had already completed 60km, so what's another 20km?  Well it was tough!  I pushed and pushed, walking the uphills, jogging the flats and easing my way down the hills to make sure I didn't stumble on a root.  It's such a challenge to stay mentally focused on the last 2 laps and hitting a root or sliding on some leaves or pine needles is not so hard to do.  I saw plenty of other people go down.  Fortunately I was able to stay on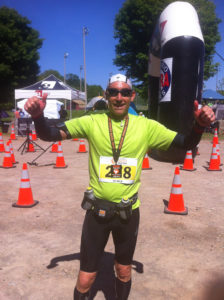 my feet the entire day.  As I approached the last 6km I noticed that there was a slight possibility for me to finish under 10 hours.  So I pushed as much as I could and walked as little as needed to get to the finish in time.  I knew at that point I was finishing the race for sure and as I approached the final hill of torture I decided I needed to run as much as possible to make it happen, and I did.  I came in at 9:58 and was super thrilled…I finished 39th out of 112 runners in the 50 mile trail run.  The ultra trail run community is so awesome.  I met some really great, supportive runners that really helped me get through this run – thank you!
My family was simply awesome.  I am so grateful for their encouragement and ongoing support.  I'd also like to thank Coach Brett for all his help and continued support.  This was truly an awesome experience and it's so amazing that my body can accomplish such incredible feats.  While I am a bit sore today, I'm am fully functional and not too tired…we'll see how I feel tomorrow 🙂
~ Adam Chaim, Plant Trainers
Click here for a list of our services