Print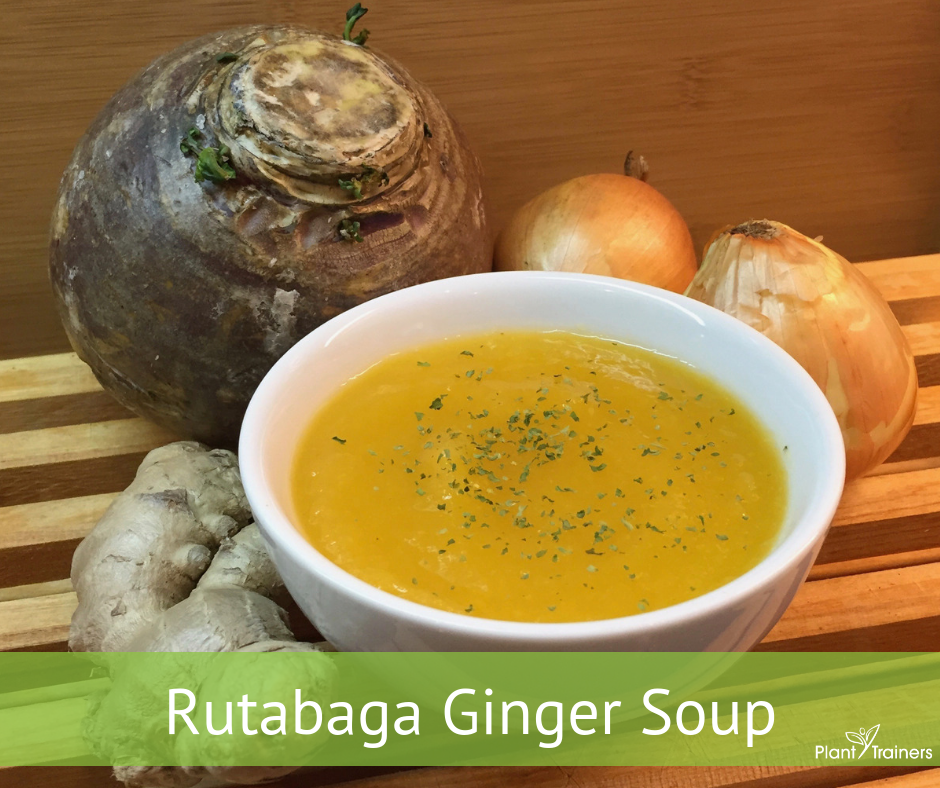 This Rutabaga Ginger Soup is delicious and for our Jewish friends…it's even Passover approved!
Rutabagas, or swedes,  are an awesome vegetable. I don't read about them often or hear of people adding them to recipes a lot. I kind of think of them as the forgotten vegetable. This powerful vegetable is a hybrid of cabbage and turnip. I tend to think of it as a turnip-sweet potato. Rutabagas are high in antioxidants, vitamin C and have been known to help fight cancer. So why not bring home rutabaga and throw it into your repertoire? Adding ginger to the recipe really amps up the anti-inflammatory properties of this soup too.
Ingredients:
2 medium rutabaga, skin chopped off
2-3 tbsp veggie stock
2 cooking onions chopped
2 stalks of celery, chopped
5 cloves of garlic, chopped
3" ginger, peeled and chopped
water to cover the vegetables in the pot
sea salt and pepper to taste
½ tsp ginger powder and (optional)
½ tsp turmeric powder (optional)
Garnish:
chopped parsley
hemp hearts (optional)
Directions:
Preheat oven to 400°
Chop off the skin of the rutabaga and wash your knife, cutting board and rutabagas. Chop the rutabaga into 1-2 inch cubes and place in the oven on a baking sheet with parchment paper. Allow it to bake for 30 minutes.
Meanwhile, prepare the rest of the vegetables.
With 5 minutes left for the rutabaga to bake heat pot and add onions and stir on and off for about 5 minutes. Use the veggie stock if it starts sticking. Add garlic, celery, ginger salt, and pepper and cook for another 2-3 minutes. The add rutabaga and cook for another 2-3 minutes.
Put enough water to cover all the vegetables in the pot and add ginger and turmeric powders.
Bring to a boil and then allow it to simmer with the lid on for about 40 minutes.
Turn off heat and allow to cool slightly.
Using an immersion blender, blend soup adding a bit of hot water until it reaches desired texture.
Garnish and serve.
This can also be eaten cold. It is great!
Enjoy!
~ Plant Trainers