Print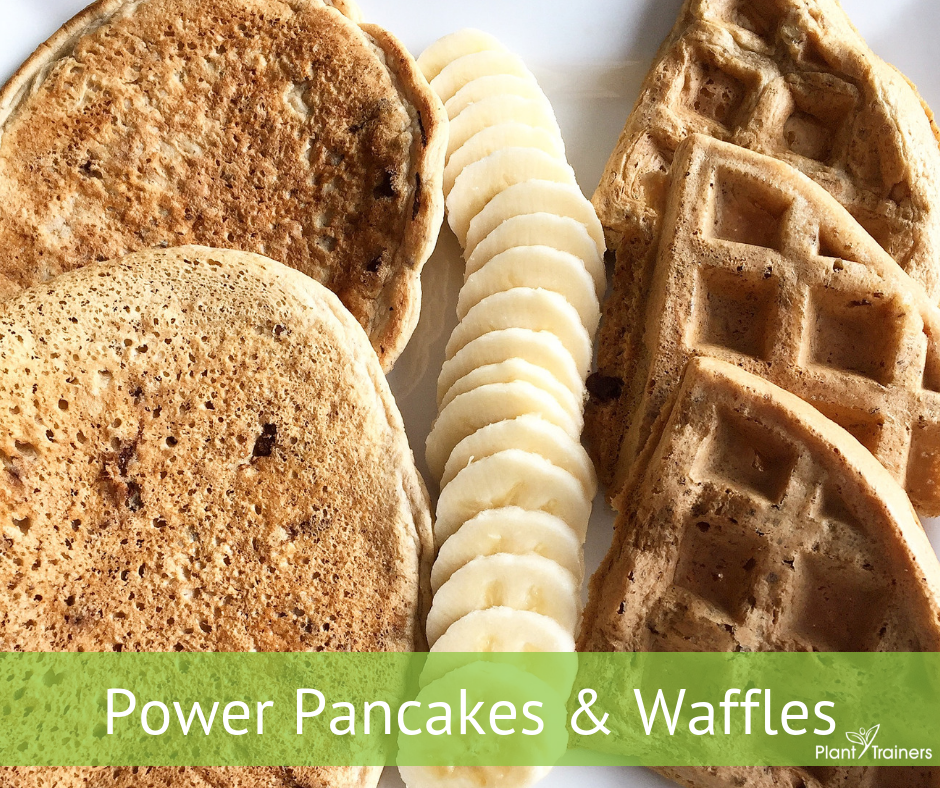 These are the pancakes we talk about in every live video we do. Back in the day, we added protein powder, because we were scared of..you know…where we would get our protein. But today, we know they contain just the right amount on their own and we eat plenty of other foods throughout the day.
They are always best served up fresh, but we do double the batch and freeze lots so we have them for quick and easy breakfasts throughout the week. One of our children likes them warmed in the microwave and the other one likes it in the toaster. We prefer them warmed in the pan.
The best part is this recipe is that it doubles as waffles, so we get the waffle iron going at the same time and it speeds up the cooking process.
These gluten-free, plant-based pancakes are the star every week. We hope you enjoy them too!
Ingredients:
1 3/4 cup of almond milk (or your choice of milk)

3 Tbsp applesauce

1 tsp pure vanilla extract

2 Tbsp ground flaxseed (or ground chia)

up to 2 Tbsp of agave (optional, we don't use any)

2 cups gluten-free flour blend (we use Bob's Red Mill)

1 Tbsp baking powder

1/2 tsp baking soda

1/2 tsp ground cinnamon

1/4 tsp salt

1/2 cup of frozen or fresh blueberries (or 1/4 cup of mini chocolate chips)
Directions:
Mix the wet ingredients in a bowl with the ground flax and let it sit for about 5 minutes.

Mix the dry ingredients and then add the wet ingredients

Fold in the blueberries or chocolate chips

Use a 1/3 cup measuring cup to divide the batter into a frying pan or waffle iron

Do not press down on the pancakes while they're in the pan (if you want them to come out fluffy)

Have fun making these delicious pancakes into any shape you want!

Once they cool, you can freeze them in a container or baggie
Tips:
Double this recipe and use the small bag of Bobs Gluten-Free Flour Mix. You don't have to measure! And you can use one individual serving applesauce instead of measuring too.
If you add chocolate chips there is no need for syrup…but we totally suggest banana.
~ Plant Trainers