Print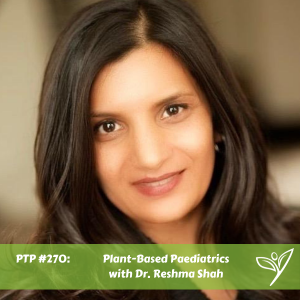 Podcast: Play in new window | Download
Subscribe: Apple Podcasts | Google Podcasts | Spotify | Stitcher | TuneIn | RSS

In today's episode of The Plant Trainers Podcast, we sit down with Dr. Reshma Shah to talk about the most important thing in the world to many of us…children. WAIT! If you are not a parent or don't plan to be, we know you'll learn something that you can share with someone along the way, so please be sure to stick with us. We have been waiting a long time to have Dr. Shah say on our podcast that a plant-based diet can be and is a healthy option for our children.
But, there is more to this show than that. Dr. Shah talks to us about breastfeeding, formula, supplements, feeding your children solids, weaning, cow's milk and so many other questions new parents have. Please share this podcast with any parents you know whether they are plant-based or not. There will for sure be something they can take away from this very informative show. Share it on Facebook, in an email, or on Instagram. Or after you subscribe, leave us a rating and review so others can find this podcast too. We are so glad you are here.
Dr. Reshma Shah is a board-certified paediatric physician. She obtained her undergraduate and graduate degrees from Johns Hopkins University and her medical degree from Drexel University College of Medicine. Dr. Shah has over a decade of experience in primary care pediatrics and served as an assistant clinical professor at Rainbow Babies and Children's Hospital, a leading children's hospital in Cleveland, Ohio.
She currently cares for patients at Santa Clara Valley Medical Center and is an affiliate clinical instructor at Stanford University School of Medicine. In addition to clinical practice, Dr. Shah has a strong interest in family health and wellness, with a focus on plant-based nutrition. She completed a certification program in Plant-Based Nutrition through the T. Colin Campbell Center for Nutrition Studies and eCornell as well as a Professional Plant-Based Nutrition Cooking certification through Rouxbe Cooking School.  
In this episode we discuss:
Farmers market

Paediatric medicine

The dinner table

Letting kids make choices

Plant-based children – the benefits

Supplements  

Prenatal plant-based

Plant-based formula and breastfeeding

Weaning off breast and formula

Picky eaters

Prevalence of allergies in children

Starting solid foods

Iron stores

Actionable tips for families who want to be more Plant-Based
Links to things we mentioned:
Propelled By Plants Performance Tee
Yummy Foods Activity Book For Kids
Dr. Reshma Shah – Instagram, Twitter, Facebook
Becoming Vegan: Comprehensive Edition: The Complete Reference on Plant-Based Nutrition by Brenda Davis and Vesanto Melina
The Paleo Debate with Brenda Davis R.D. – PTP210
Thank you to this month's Patrons for supporting us on Patreon:
"Joe"
Millie Pearson
Mary Lou Fusi
Carmen Fanous
Emily Iaconelli
Spanish Armada
Michele Olender


Don't forget to contact us at info@planttrainers.com with your question for our Plant Trainers Facebook Lives!
We hope you enjoyed this podcast! Please take a moment and leave us a rating and review over on Apple Podcasts – we would be grateful! This will help get our podcast out to others who may enjoy it. We promise to read your reviews and consider your feedback. This show is for you.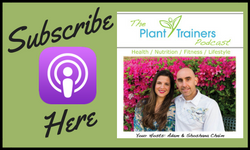 Please subscribe to The Plant Trainers Podcast on your favorite podcasting platform.



Help us by spreading the news about our totally awesome Podcast!
Click here for a list of our services