Print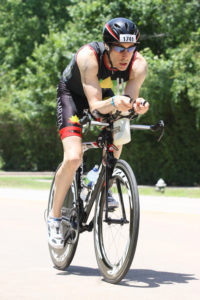 So, you are trying on the multi-sport of triathlon? Good on you! You have been running a while, you dropped some bucks on a new bike and you can actually swim more than 50 meters in open water without turning on your back. You think you are ready…and you are.
Now what? You have to pack. Packing for a triathlon is a sport in itself. But where do you start? Don't worry, we have you covered…below is our triathlon checklist!
Let's start with what to pack in. Some people have their fancy triathlon style bags that have a compartment for everything – even a wetsuit. Don't let that encourage you to go out and buy one. You'll have plenty of other things to spend your triathlon budget on. Some people use an old gym bag and others use a plastic storage box. It's all a mat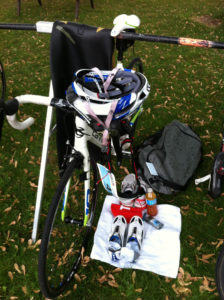 ter of preference. You (most likely) won't be able to keep your bag next to your bike. You usually have to put it beside the fence outside of the transition area.
Start packing a few days or even a week before. After all, you'll be tapering and you'll have so much extra time on your hands! You may need to head out and buy some stuff so better to be prepared! (whatever you do, don't forget the baby wipes!) And remember the rule of thumb:
NOTHING NEW ON RACE DAY. That includes clothing, equipment and food.
For more helpful hints about preparing for race day and the big event,  subscribe to The Plant Trainers Podcast on iTunes. Friday June 5th is our Triathlon 101 show!
Below is a triathlon checklist of what we recommend you'll need and it can also be downloaded here.
| | | | | |
| --- | --- | --- | --- | --- |
| General | Swim | Bike | Run | Miscellaneous |
| Gear/transition bag | Swim cap | Bike | Hat/visor | Directions to race |
| Tri suit(Shorts & top or 1 piece) | Goggles – clear (cloudy day or dirty water) | Bike pump | Shoes (with orthotics if you use them) | Sunglasses |
| Tri Registration Card/number | Goggles – Amber (Very sunny) | Water bottles (aero-bottles) | Speed laces | Electrical tape |
| Bib race belt or pins | Tri suit you will wear for the whole race. | Helmet/Aero-helmet | Water bottles/belt (optional) | Cell phone/camera |
| Sunscreen | Wetsuit (depending on temperature) | Emergency tire kit (spare tube, lever, CO2, bike tool) | Socks | Extra towel |
| Towel or mat for transition | Ear plugs (optional) | Race wheels (optional) (install these before race day) | | Wipes |
| Race fuel (food, liquids) | Nose plug (optional) | Shoes | | Post race clothing and flip flops/crocs |
| GPS/Heart Rate Monitor/chest strap/Watch (optional) | Anti-fog solution (optional – use spit instead) | Socks (optional) | | Garbage bag |
| Body Glide | | | | Rain gear |
| Cash/Wallet/ID | | | | |
| Head-lamp/Flashlight | | | | |
Good luck this season!
Do you want to create lifelong healthy eating habits for your family? Are you looking to help prevent heart disease, cancer and chronic diseases? Are you looking for guidance with your plant-based nutrition? We can help. If you are a MOM who is serious about getting results, you may be eligible for a FREE 30-minute Skype or phone consultation, where we can help you with your goals NOW. Easily book your session HERE. 
If you're a MOM looking to become more plant-based, why not join our Facebook Group?
Subscribe to Adam's Journey 2015 by clicking here.
We hope you enjoyed this podcast! Please take a moment and leave us a rating and review over on iTunes – we would be grateful! This will help get our podcast out to others who may enjoy it. We promise to read your reviews and consider your feedback. This show is for you.
Please subscribe to The Plant Trainers Podcast on iTunes or Stitcher so you will know when we release a new episode.
Help us by spreading the news about our totally awesome Podcast!
Click here for a list of our services