Print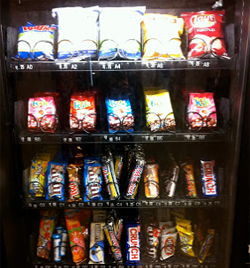 I'm still amazed every time I hear about the kinds of foods being served and offered to the students in vending machines in our schools, whether in the USA or Canada.
While there has been some forward movement in some areas to improve the quality of food our students have access to, there are still many issues surrounding the available foods.
As you may know, I have been battling in my school to make changes to the foods available to our students. While I can't control what my cafeteria serves, I have made it my business to inform the school administration as to the types of food we offer: greasy pizza, french fries, breaded chicken strips, breaded fish sticks, greasy lasagna…the list goes on. I'm pleased to say that after years of complaining about it, this year I've made some headway…not much, but some. Less breaded and fried foods available, more fruits and veggies available as well as salad options.
My biggest complaint was always the fact that in my health classes (in PE classes), I teach about healthy foods and having healthy options and of course making wise choices. In the lobby of our gymnasium, we had 3 vending machines. Two of them contained "Big Food" junk food. Things from chocolate bars and chips to candies like in this one right here:
The other machine was full of sugary drinks: soda, Poweraide, juice like in this machine:
To me, it makes no sense to be teaching about healthy active living, healthy food choices and then us as a school shoving all this sugar and crap in our students' faces in the gym area.
Does that make any sense to you?
I got fed up. Administration wasn't doing anything about it, so I decided to start putting "Out of Order" signs on these machines so our students wouldn't buy from them. Ya ya, I know what you're thinking. So they won't buy from these machines, they'll go outside the school and buy the crap somewhere else. The way I see it, I can't control everything, nor can I control everyone. However, I can attempt to control the environment that I teach in…and so I try.
My "Out of Order" signs kept getting pulled down by the vending machine people and I got my wrists slapped by our administration. They're telling me that the vending machines are this guy's business and he has the right to sell whatever he wants. My response…no problem, let him sell his crap somewhere else. I kept putting up the signs and one day I showed up after a long weekend to find that the two machines that contained the "Big Food" junk foods were removed from the gym area.
Needless to say, I was very happy. That being said the battle wasn't over. The above machine was still there. So I remained persistent and kept putting up signs. Eventually, the soda was removed from the machines…great, right? Kind of, the problem now was that they simply replaced the sodas with juices, more Poweraide and Vitamin water…more sugar! So, I put up signs like this one below.
Of course, this did not go over very well either…but being persistent and staying determined is part of my personality. Eventually I switched the sign to one that I thought would be laughed at:
Of course everyone knew that I was responsible for putting up these signs and I'd be questioned quite often by students…"What drinks don't have sugar in them other than water?" My response…"Water". If they must have a vending machine in this area of the school, I say give us water!
Our students don't need the sugar that leads to obesity, disease, behavioral issues, brain fog and many more things. Our bodies are composed of mostly water…we should be drinking water!
Just this past Friday, I saw our school's operation manager standing with the vending machine guy in front of the machine you see above saying " PLEASE FILL THIS MACHINE WITH NON-SUGAR DRINKS". Then in the middle of my class, she interrupts my teaching (I thought I was going to be slapped again). To my astonishment, she said that all the sugar drinks will be removed and will be replaced by only water! I was very happy and a bit shocked to be honest. It's taken me about 4 years to get to this point. If the machine needs to stay, let it be filled with water!
While the battle for healthy foods in my school continues, I know this is a battle worth fighting! I am also aware that it is far from over. My intention here and what I hope people will get out of my experience is the fact that we need to be persistent and fight for what we believe in. Anything is possible, very cliche…I know, but don't give up. Food in our schools is a very complicated and difficult battle to take on, especially when schools are being funded by Big Food companies and may be getting kick-backs as well. We simply need to stick to it and lobby for the health of our students and our future.
If the water doesn't sell and the vending machine guy wants to go back to selling his crap there will be two possible options for him:
1. Remove the machine from the gym area
2. I will physically remove the machine for him
Stay hydrated!
To hear me speak to this issue, please check out this podcast
Adam Chaim
~ Plant Trainers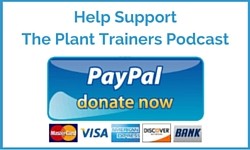 Don't forget to contact us at info@planttrainers.com with your question for our "Hey Plant Trainers" segment!
Do you want to create lifelong healthy eating habits for you or your family? Are you looking to help prevent heart disease, cancer and chronic diseases? Are you looking for guidance with your plant-based nutrition? We can help. If you are serious about getting results, you may be eligible for a FREE 30-minute Skype or phone consultation, where we can help you with your goals NOW. Easily book your session HERE. 
Subscribe to Adam's Journey by clicking here.
We hope you enjoyed this podcast! Please take a moment and leave us a rating and review over on iTunes – we would be grateful! This will help get our podcast out to others who may enjoy it. We promise to read your reviews and consider your feedback. This show is for you.
Please subscribe to The Plant Trainers Podcast on iTunes, Stitcher or Player.FM so you will know when we release a new episode. Now also available to Listen on Google Play Music!
Help us by spreading the news about our totally awesome Podcast!
Click here for a list of our services