Print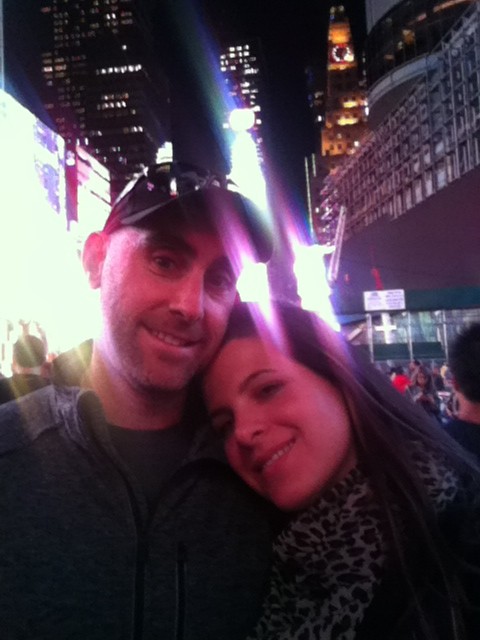 If you're planning a visit to New York City any time soon…here are some things that might be helpful!
We stayed at
The Quin Hotel
(
@TheQuin
), which is in a fantastic location sitting around the corner from Central Park and just a few blocks away from Times Square.  The hotel staff were incredibly helpful and courteous making our stay as comfortable as they could.  Their Attache desk was super knowledgeable about the city and made sure we had everything we needed.  The rooms were perfectly updated with modern decor and everything was computerized…even the shades!
There is an abundance of exercise that can be had in New York City. Walking is definitely one of them. Running in Central Park was awesome. I think I renamed it SMELLtral Park. There is a really unique smell every few meters (most of them unwelcoming). Vitals Health (@vitalshealth) can help you with all your fitness needs while visiting New York City.  They put together a jogging map offering three different loops with their distances. As you can imagine, Adam did the loop-di-loop-di-loops! I didn't want to overdo it. My GPS was not working well so I ran a bit and then turned back. Later I realized I ran half the perimeter and came back the same way completing the same 3 miles twice. Oh well. One of our highlights was going to the Strala Yoga Studio (@StralaNYC) for some relaxation movement in Yoga. It was a class like I have never experienced before. This style of Yoga was not static at all. We moved throughout the poses making the level of difficulty easily achievable all the while feeling and connecting with our body. Wow. Out of this world!
Here is the part you have been waiting for: FOOD. I really don't even know where to start. No matter our location, within a few blocks we were able to find a café style restaurant that labeled their food as vegetarian, vegan and/or gluten-free. These places had everything we needed to know spelled right out for us catering to people with food allergies, intolerances and preferences really well! It's time for the GTA to take notes. Enough with the sub and burger chains. Let's get some REAL foods up in this place, YO! Iceberg lettuce with oil and vinegar just doesn't cut it. 
Here are some of our quick picks for plant-based, gluten-free eats in New York City:
Whole Foods (@WholeFoodsNYC): It may not be magical, but it's practical. We visited the Whole Foods in The Time Warner Centre. There are buffets and some hidden gems throughout the store. Be wary of dinner time. It seems like everyone and their best friends are crazy hungry for some Whole Foods eats!
Fresh & Co (@Freshandco): This is a great option. They make things fresh and just the way you like it!  They have a grab and go section and they have counters where you can choose your own meals and add on. They have breakfast bowls, salads, Quinoa bowls, soups, sandwiches and more. You can eat there a few times a day and feel like you're having something different. Fresh & Co come to Thornhill!!!!
Organic Avenue (@organicavenue): This place is quite impressive. It is like "Prêt a Manger" for those of you who have traveled in London, England. They have pre-made smoothies, juices, breakfasts, wraps, bowls, salads and soup ready to be grabbed. Take the food to the Red Stairs at Time Square or your favorite park or square. We loved the Thai Collard Wrap.
Maoz Vegetarian (@MaozVegetarian) is a vegetarian kosher falafel bar that can be found throughout the city.  You can create your own gluten-free falafel salads and choose your own salad toppers.  It really hit the spot as a quick dinner before one of the few Broadway shows we went to.
Chipotle Mexican Grill (@ChipotleTweets): This place needs no introduction. When you need your Mexican rice and beans, it's the go to place.  Awesome tasty quality food.

Two Boots Pizza (@TwoBootsHQ) was a bonus find for us. We were craving pizza from the delicious smells that reach the sidewalks from inside the pizza parlors. We hit the jackpot when we found Two Boots Pizza makes a gluten-free, vegan cheese pizza. They even have one of their pizzas on the menu named "V For Vegan".
Our top Café style pick is The Little Beet (@littlebeet).  This place was awesome. Its slogan is 100 Percent Guiltin' Free. They prepare amazing, local, seasonal foods into simple and tasty meals. They have a take out section as well as a hot and cold bar. We enjoyed the super gingerly Ginger Carrot Soup as the day was a bit cold and glum. We chose from a variety of side dish options. They had warm sides, which were mostly different roasted vegetables. They also had different cold grain salads. You were able to choose from quinoa, wild rice, millet, slaws and more. They have cold pressed juices, desserts and other options too. 
We grabbed a late lunch at a restaurant called Angelica Kitchen (@nyc_angelica). Hidden in the East Village at E12th and 2nd Ave we delved into the Kale salad, Avocado & Kimchi salad and the most interesting Raw Curried Cashew Spread we've ever had.
Candle 79 (@Candle79) has a great reputation and it surpassed our greatest expectations. This is a beautiful, delicious farm to table restaurant with awesome atmosphere where celebrities can often be spotted. Their cheese platter was sophisticated and tasty with all the trimmings. Adam had a tempeh dish and I had a great savory crepe. Dessert was soothing to be desired. The Chocolate-Peanut Butter Bliss was a close second to the Mexican Chocolate Brownie – It. Was. A-mazing.
We kinda feel like we ate our way through New York City. Maybe we did, but we had a blast together. I can't wait until next year's trip. 
Shoshana Chaim

~ Plant Trainers
Click here for a list of our services.