Print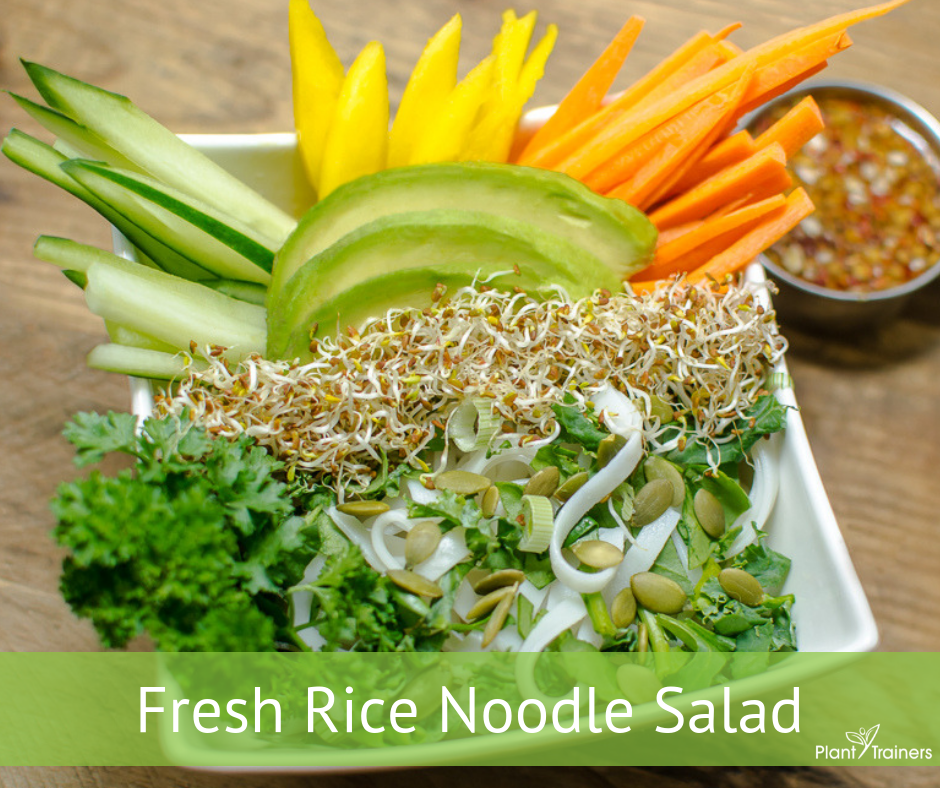 I just revamped this Fresh Rice Noodle Salad for the second time. It is delicious and an easy recipe that can be doubled to bring to a brunch or pot luck. This is naturally gluten-free and plant-based. It reminds me of spring even on the gloomiest winter days because of it's awesome fresh taste. Sometimes I double the veggies for added nutrition. If you don't have one of the herbs, they can easily be replaced with parsley, cilantro or another herb of your choice.
This was dinner for the four of us and we polished it off. The kids don't like sauce or their food mixed. Before I assembled the salad, I put a serving of each ingredient individually on each kids' plates. They ate it tapas style.
Salad
Ingredients:
2 large carrots, grated or julienned
8 oz. dried rice noodles (Try organic brown rice pad thai noodles)
3 cups combined of sliced kale and sliced spinach
3 green onions, thinly sliced
2 large (just ripe) avocados, thinly sliced
1 cup cucumber, thinly julienned
Add 1 cup of any sprout of your choice
1 large mango, thinly julienned
1/2 cup thinly sliced mint leaves
1/2 cup thinly sliced fresh basil leaves
Dressing
Ingredients:
1/2 cup fresh lime juice
1/4 cup pure maple syrup
1/4 cup Tamari
3 cloves garlic, minced
½ -1 tsp crushed chilli flakes (to your taste)
Topping
Ingredients:
1/2 cup cilantro or parsley
1/2 cup pine nuts, sliced almonds or pumpkin seeds (optional)
Salad
Directions:
Boil rice noodles for 5-10 minutes until tender. Drain, and set aside.
Cut all vegetables and fruits and place in a large bowl with the noodles (If you don't have the patience to julienne, just chop into bite sized pieces).
Dressing
Directions:
Warm all ingredients in saucepan over low heat for 5 minutes. Stir occasionally. Set aside to cool.
Drizzle dressing over top and then sprinkle with parsley/cilantro and nuts (optional).
~ Plant Trainers