Print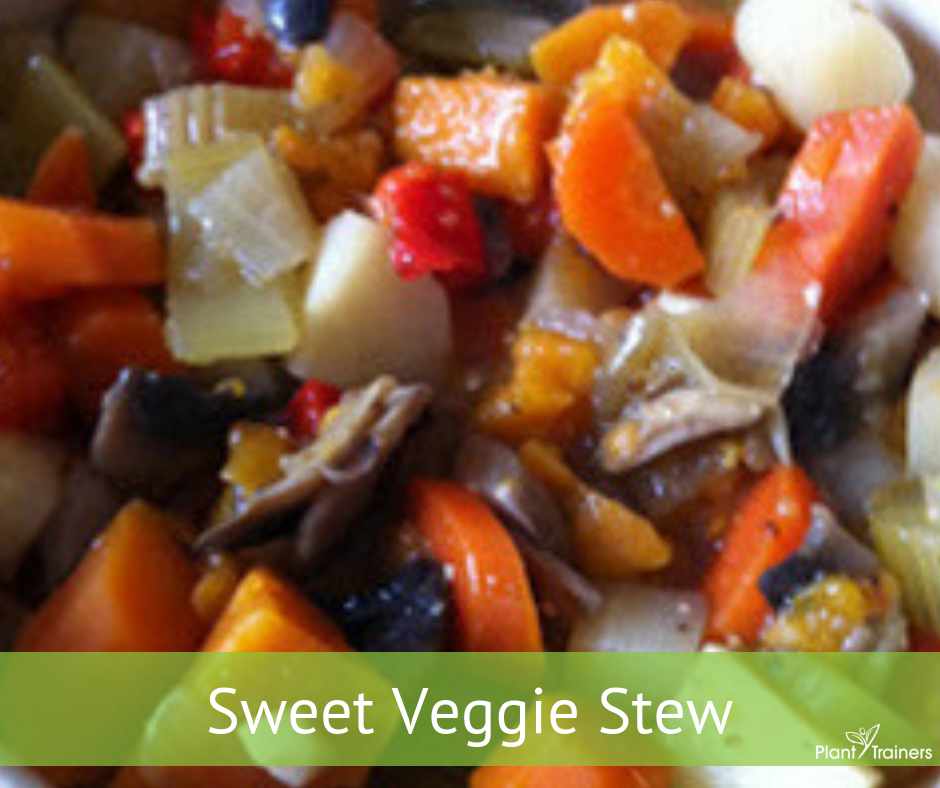 This is an awesome Sweet Veggie Stew that is so comforting, hearty and warming. It can be eaten alone or over Rice, Quinoa, Millet, Amaranth or any other grain you can think of! This recipe is gluten free and vegan and as always it can be modified as you wish. Don't be intimidated by the ingredient list…it's super easy!
Veggies can be chopped or done in a food processor and added to your pot as you go.
Ingredients:
2 Medium Onions, chopped
Add 2 Celery stalks, chopped
2 Cloves of Garlic, chopped or minced
Add 2 Carrots, peeled & chopped
2 Parsnips, peeled & chopped
2 Medium Potatoes, cubed
1 Red Pepper, seeded & chopped
2 Cups sliced mushrooms
1 tsp dried Dill (optional)
1 tsp dried Oregano
2.5 Cups Vegetable Broth
1TBSP Dijon Mustard
1 TBSP Maple Syrup
Salt & Pepper to taste
Directions:
1. Drop a bit of water in a pot over a medium heat. Add the onions & celery and saute for ~6 minutes or until they are golden brown.
2. Stir in the garlic, parsnip, carrots & potatoes – mix well.Cook for ~3 minutes. Add the red pepper & mushrooms – Cook ~2 minutes & then add the dill, oregano & veggie broth – bring to a boil.
3. Reduce the heat to Low & stir in Dijon mustard & Maple syrup.
4. Simmer for ~12 minutes or until the potatoes are soft.
5. Season with salt & pepper to taste.
This makes about enough to fill 6 tummies…however it's a great idea to double the recipe so you can enjoy it for a few days. This will keep easily in the fridge for 2-3 days, but probably won't do so well in the freezer!
Hope you like it…I sure did!
~ Plant Trainers