Print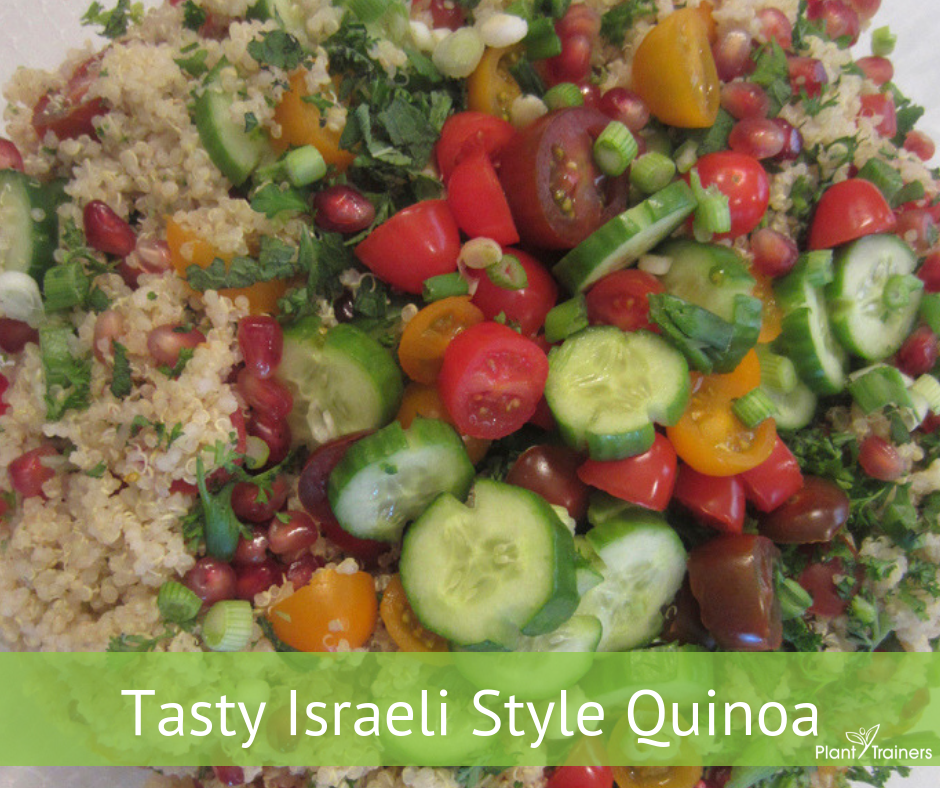 This was the perfect plant-based dish to make when I had my family over for brunch. The winter's day was mild and spring did not feel so far away. This dish combined some favorite foods from Israel in a quinoa crazy kind of way.
This recipe makes a lot! If you are not entertaining, cut it in half.
Quinoa
2 cups of uncooked quinoa
4 tbsp of minced parsley
3 tbsp of minced mint
2 tbsp of dried tarragon
Juice of 1 1/2 lemons
3 small cucumbers sliced
about 40 multicolored cherry tomatoes cut in thirds (or red only)
1 1/2 cups of pomegranate
salt and pepper to taste
3 green onions thinly sliced
Directions:
Place the two cups of quinoa in a pot with 4 cups of water. Cover, bring to a boil and let simmer for 15 min. Remove from heat, remove cover, mix and let sit until cooled. It may take a while to cool so I always prepare this a few hours in advance or even the night before.
Mix parsley, mint, tarragon, salt, pepper and lemon juice into cooled quinoa. (You can also add dressing to taste now, if you are doing this in advance. I serve mine on the side)
Gently mix in cucumber, tomato, and pomegranate.
Sprinkle with green onion. I also like to pour a few more tomatoes on top for colour.
This salad is great on it's own if you like the light taste of the ingredients coming together is a subtle way.
Tahini Dressing
1/2 cup tahini
1/2 cup water
1/3 cup plus a teaspoon of fresh lemon juice
4 garlic cloves
1 tsp sea salt
1 tsp fresh parsley
Directions:
Blend all ingredients together and enjoy.
Add a teaspoon of water at a time and blend again if the consistency is too thick for you.
~ Plant Trainers