Print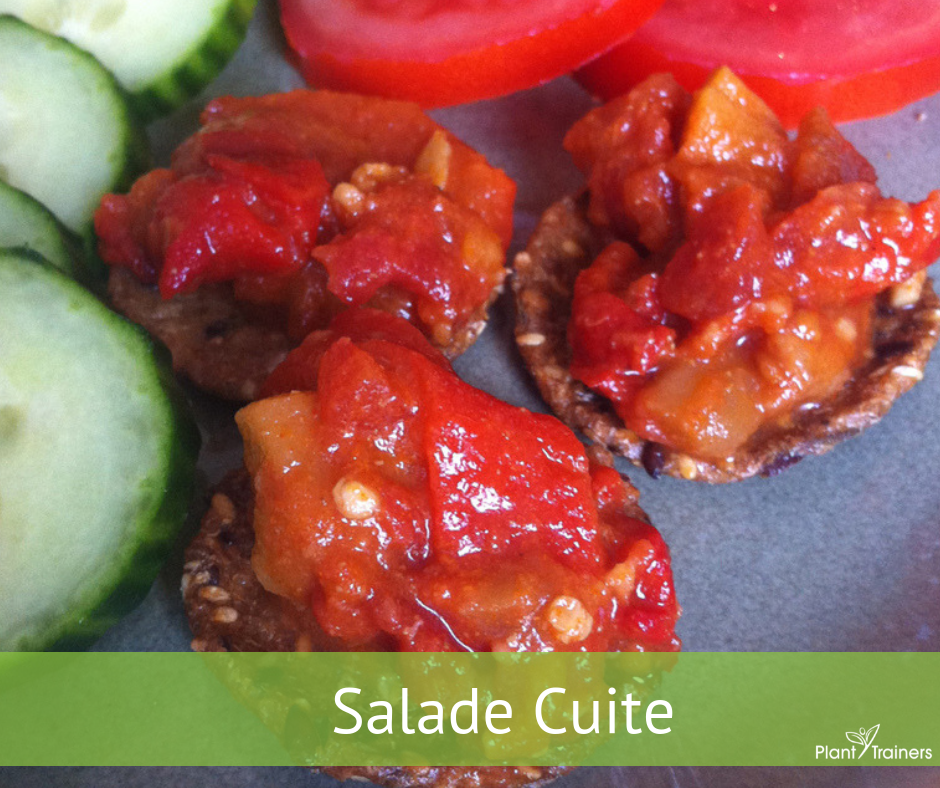 For those of you who have not heard of Salade Cuite you are in for a treat! Salade Cuite is a Moroccan type salad made with cooked down tomatoes and peppers with those authentic Moroccan flavours! Growing up in Montreal surrounded by a Moroccan community, I developed a taste and need for this beautiful dish. My friend's mom used to make it fresh each week and so I've started making it myself. One week I found a small eggplant in the fridge that was going nowhere, so I decided to throw it in. It created this Salade Cuite Moroccan style ratatouille that was irresistible on crackers to my guests. I hope you enjoy it as much as I did. If you don't like eggplant, no problem, you can enjoy this plant-based gluten-free treat without it.
Ingredients:
2 Tbsp olive oil (I used coconut oil)
3-4 cloves of fresh garlic, pressed
1 can (19oz) whole or chopped tomatoes
1 small eggplant peeled and cut onto small cubes (~1-1/2 cups)
4 red or green peppers (if you eliminate eggplant use 6)
salt and pepper to taste
2 tsp cumin
1 Tbsp paprika
Directions:
Sauté garlic in olive oil
Add tomatoes and eggplant. Allow it to cook down for about one hour
In the meantime, cut the peppers in half and discard the seeds
Roast the peppers in the oven at 450 until the tops get all black
Remove the peppers and allow them to cool in a large zip bag
Once they cool, remove from the bag and peel off the blackened skin
Chop the peppers and add to the tomato and eggplant
Add the remaining ingredients and cook for about 30-45 minutes longer allowing all the flavours to combine
Taste and add extra spices as desired
Let us know what you think in the comments below!
Enjoy!
~ Plant Trainers