Print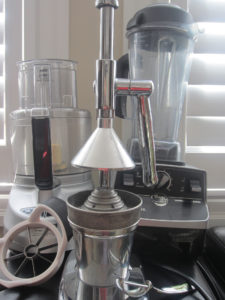 My Top 5 Kitchen tools
Kitchens. Some of us know how to rock it, some of us are on a path to rocking it and some of us think it rocks untouched and unused. Whoever you are, there are definitely some tools you use more than others. Do you ever reflect on which kitchen tools are your favourites and and which ones really make your cooking life that much better? NO…I'm not talking about the coffee maker…lord knows it's an important one for most people. Let's try to think past the coffee for a few minutes. Of course you'll need an awesome chef knife too, but let's go beyond that as well.
Here are some of my favourite kitchen tools and how they help me in the kitchen.
#5 – The Vegetable Peeler: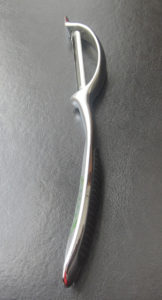 Before I started getting sophisticated in the kitchen I had a peeler from the discount store. The problem was that it dulled quickly and did not peel harder items like eggplant. I invested in a $12 (or more) peeler and never looked back. It allows me to peel quickly, I can put it in the dishwasher as it is not plastic and I use it to quickly make thin ribbons. I use carrot ribbons in sushi and to top stir-frys. It's quick and easy when you don't need large quantities.
#4 – The Cuisinart: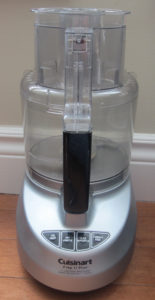 I'll be honest. This large item stayed in a closet for my first 10 years of marriage. Now I can't live without it. Just this morning I threw in halved onions and celery, pulsed a few times and it was all chopped evenly and beautifully. Cleaning, shmeening…it's not such a chore. Take your's out of storage today!
#3 – The Apple Slicer:
I hemmed and hawed on this one. I had a few more I could have snuck in, but I'll save them for another time. This one is just so much more practical. We go through A LOT of apples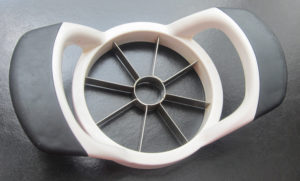 in this house. Apples in lunch boxes, apples to feed the kids while I'm cooking and plenty of apple and almond butter snacks. When you're in a hurry there is nothing worse than pulling out a cutting board, slicing the apple, cutting away the core and getting whined at because the wedges are not even AND having to wash them. This way I literally wash an apple slice and core it evenly in one swoop and move on with my day. Amazing.
#2 – The Vitamix: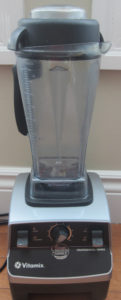 N'ough said.  Really. Do I have to explain?  We use our Vitamix at least twice a day…smoothies galore, salad dressings, and much more – you name it!
#1 – The Jumbo Citrus Juicer: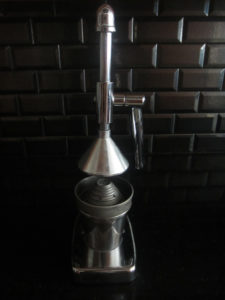 We have a large array of lemon squeezers. Get your head out of the gutter. Oh and by the way if you google lemon squeezer you will get pictures of handguns. Weird. I used to use a yellow hand held lemon squeezer but I came across this amazing citrus juicer (in my basement!?!). It totally rocks. I squeeze about 5 lemons at a time and put the juice in a mason jar. Then I have lemon juice ready for my lemon water and morning smoothie each morning and for my dressings and other recipes. It helps cut down prep time and it is easy to use and clean. This is by far my top kitchen tool!
What are your top kitchen tools?  Leave us a comment below and let us know!
~ Plant Trainers
Click here for a list of our services