Print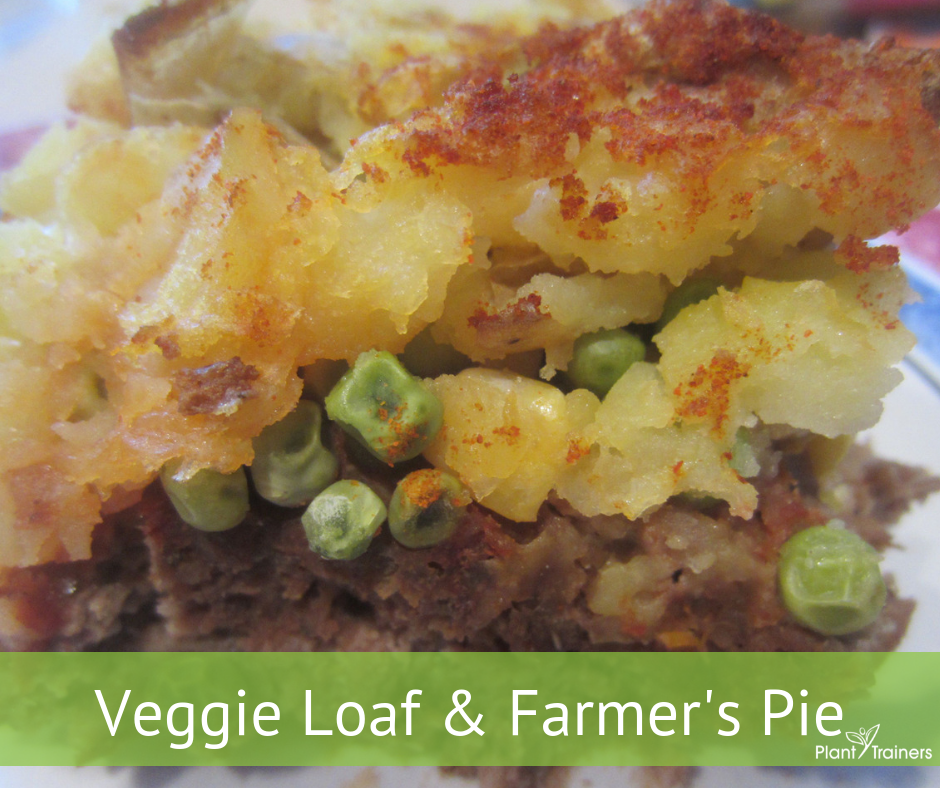 This week we have a special 2 for 1: Veggie Loaf & Farmer's Pie Recipes (AKA: Meatloaf & Shepherd's Pie).  We are about to share with you the be all and end all of plant-based gluten-free meals. These meals are so good even your friend's husband who won't eat anything but steak will be happy. The base of this recipe is a veggie loaf  that can be made on it's own. Add the delicious potato topping and you have what I like to call a "Farmer's Pie". Mmmmm Mmmmm good. We hope you enjoy it. The veggie loaf freezes well. I usually double the recipe and freeze the rest for another time.
Ingredients:
2 stalks of celery
½ large onion (any kind will do)
3 cloves of garlic, pressed
10 oz package of firm tofu, drained
¼ cup walnuts, ground
1½ cooked brown lentils
1½ cups of quick oats OR 1¼ cups of ground almonds and sunflower seeds (If you want it oat free)
3 Tbsp tamari
2 Tbsp tomato paste
1½ Tbsp dijon mustard
2 tsp dried parsley
2 tsp dried oregano
1 tsp dried basil
salt and pepper to taste
2 Tbsp coconut oil (or a non-stick pan)
Ketchup, enough to cover the meatloaf
Additional ingredients for Farmer's Pie:
½ cup organic frozen peas
½ cup organic frozen corn niblets
6 medium potatoes cooked and mashed
paprika
Directions:
Preheat oven to 350°
Prepare oven safe dish and wipe some coconut oil inside so the loaf won't stick (or use a non-stick pan).
Place onion and celery in the processor and pulse until chopped. (You can chop by hand if you so desire).
Saute onion, celery and garlic salt and pepper in a bit of water for 5 minutes.
Remove from heat and allow to cool.
For a chunky loaf, mash the tofu in a big bowl and add remaining ingredients EXCLUDING the ketchup and coconut oil.
For a smoother, more kid friendly loaf, put remaining ingredients EXCLUDING the ketchup and coconut oil into the food processor and process until desired consistency.
Place the mixture in the baking dish and smooth out the top.
Top it off with a small layer of ketchup.
Bake for 50 minutes or until toothpick comes out clean or skip this step if you are making the Farmer's Pie.
Additional Directions for Farmer's Pie:
Place the corn and peas on top of the loaf.
Add the mashed potatoes on top of the corn and peas.
Brush the top of the potatoes with some coconut oil.
Sprinkle with a bit of paprika and salt if desired.
Bake for 50-60 minutes. The potatoes should be slightly brown.