Print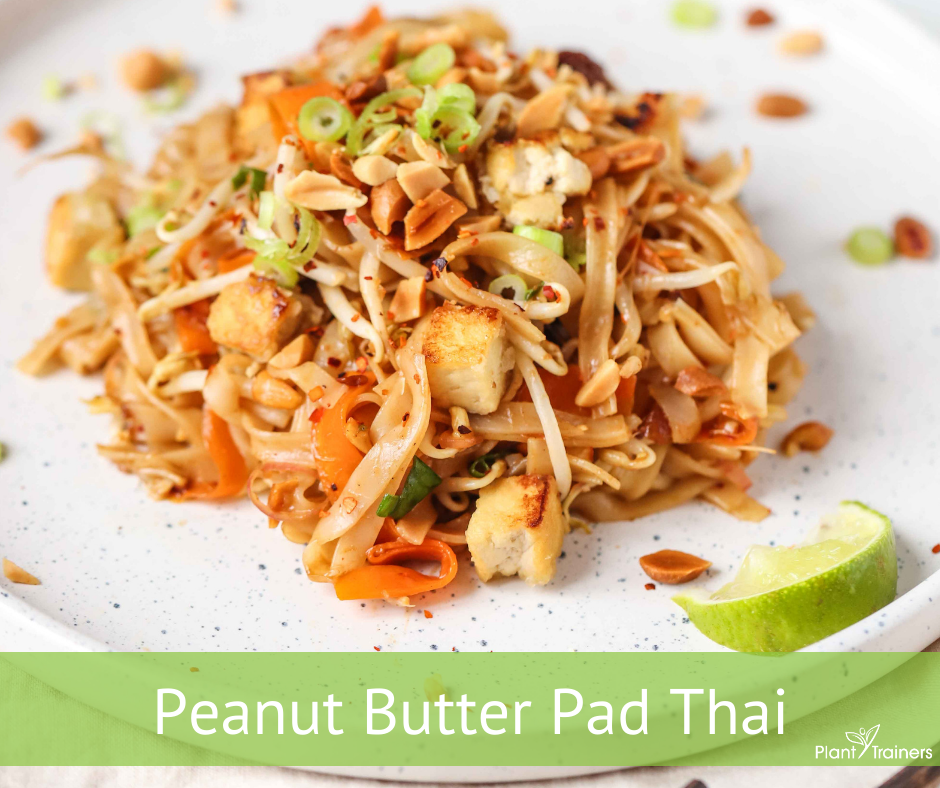 This vegan peanut butter Pad Thai was a great hit when we had guests over. It contains all the right elements of Pad Thai, but it is heavy on the vegetables, making it healthier! If you don't have all the veggies I included here, no problem…use what you have!
It easily doubles! You may even want to double the sauce in case you want to add a bit more. You can put the rest of the sauce into the fridge for another night! The sauce is great with spring rolls or as a salad dressing.
Vegan Peanut Butter Pad Thai
Ingredients:
~225g of Thai rice noodles
Thai peanut sauce (can be found below)
2 large carrots sliced thin
2 cups of bok choy
Add 2 onions sliced thin
2 cups of chopped kales
Add 2 cups of broccoli florets
2 cups sliced mushrooms
2 cups of bean sprouts
½ cup of cilantro chopped (optional)
½ cup chopped green onion
juice of one lime
½ tsp salt
one package of extra firm tofu
2-3 tbsp sesame oil
¼ cup peanuts
Directions:
Steam carrots, bok choy, onion, kale broccoli and mushroom until desired texture
When done toss with bean sprouts, lime juice and salt and set aside
Prepare rice noodles according to package
Drain and cut tofu to the desired size
fry tofu with sesame oil until it gets slightly brown
Mix noodles, steamed veggies, tofu and Thai peanut sauce together – garnish with green onion and peanuts
Vegan Peanut Butter Pad Thai Sauce
Ingredients:
3 cloves of garlic, pressed
½ cup peanut butter
3 Tbsp tamari (or soya sauce)
2 Tbsp rice vinegar
1 Tbsp sweetener of your choice
2 tsp sesame oil
1 tsp grated ginger
½ tsp thai curry paste (or chilli flakes-to taste)
¼ cup cold water
Directions:
Blend all ingredients in a blender or bullet
Enjoy!
~ Plant Trainers