Print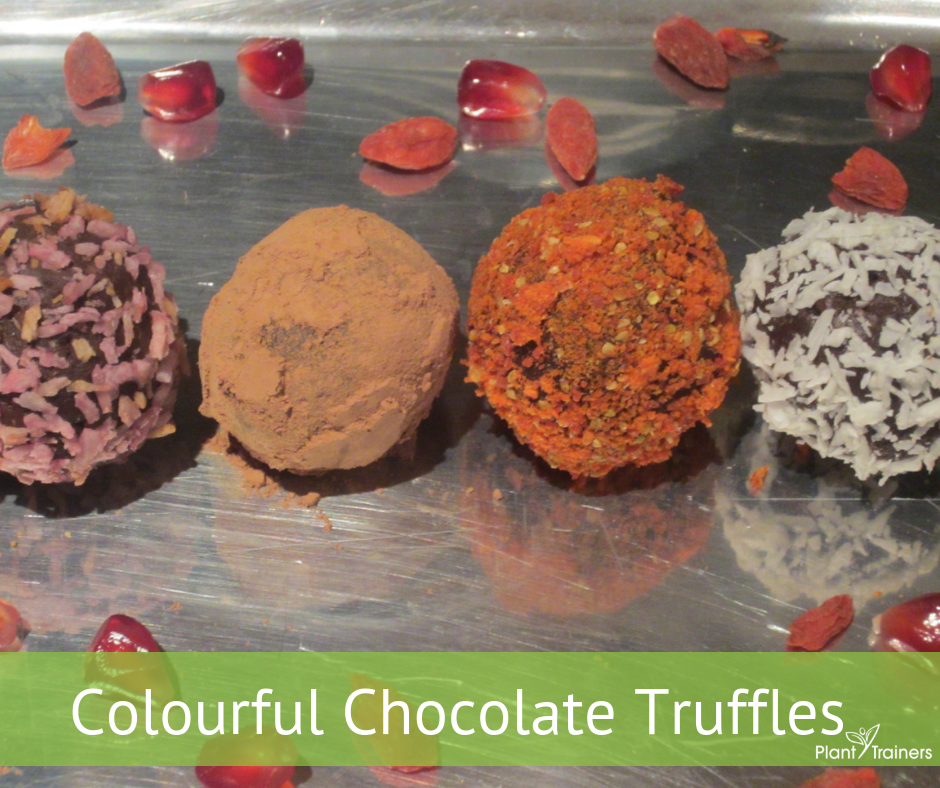 Every year I make a new treat for our family Valentine's Day picnic. This year I wanted to create something with bold flavor, fun colours and no food dyes. Lately I have been experimenting with many energy ball recipes, so I decided to stick with the theme. This is how the Valentine's Day Colourful Chocolate Truffles were born. They may be chocolate, but they are coated in various supper foods. Feel free to use any or all of the toppings.
Ingredients:
¾ cup dairy free chocolate chips
1 small avocado mashed and smoothed
1 Tbsp cacao nibs (optional)
½ tsp pure vanilla extract
pinch of salt
For the topping you have 4 options listed below. Check them out to see what you want to use.
Truffle Directions: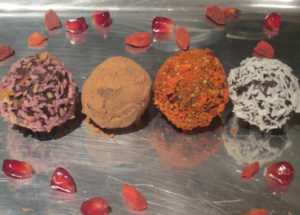 Melt the chocolate in a double boiler and mix in the vanilla and salt.
Remove from heat and stir in mashed avocado and cacao nibs until the mixture is smooth.
Place in fridge for about 30-40 minuted until mixture is firm enough to roll into balls. You can also put it in the freezer at the end just to speed it along.
Place a cookie sheet in the freezer during this time lined with parchment paper for when you are ready to roll the colourful chocolate truffles.
Get your toppings ready:
Toppings:
Using the grinder blade on a Magic Bullet or another device, ground dry Goji berries. They will come out an orange-pink colour
Topping for all 12 truffles
1 cup of pomegranate seeds4 Tbsp raw grated coconut
3 Tbsp Goji berries grounded
3 Tbsp raw cacao powder
4 Tbsp grated coconut
Topping for 6 truffles
1/2 cup of pomegranate seeds2 Tbsp raw grated coconut
1.5 Tbsp Goji berries grounded
2 Tbsp raw cacao powder
2 Tbsp grated coconut
Directions
Place pomegranate seeds in the blender and pulverize.Pour out the juice over a mettle strainer and catch the juice in a bowl. Let the coconut sit in the juice for 5 minutes, then strain it. Spread out the strained coconut on a cookie sheet lined with parchment paper and bake at 350 for about 10 minutes mixing occasionally so it does not burn. Take it out when it is dry. The method seems long, but it's quite easy.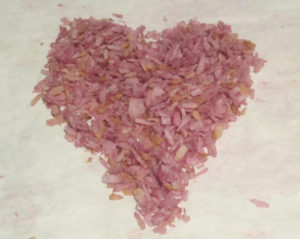 When the mixture is firm, scoop out 1 tablespoon at a time and roll into truffles and place them on the parchment paper on the frozen cookie sheet. (Your hands will get oily)
Roll each truffle in the topping of your choice.
Store in the fridge. You may also want to freeze the serving platter before serving the colourful chocolate truffles so they remain round.
Enjoy!!!
Inspired by Apple Of My Eye
~ Plant Trainers