Print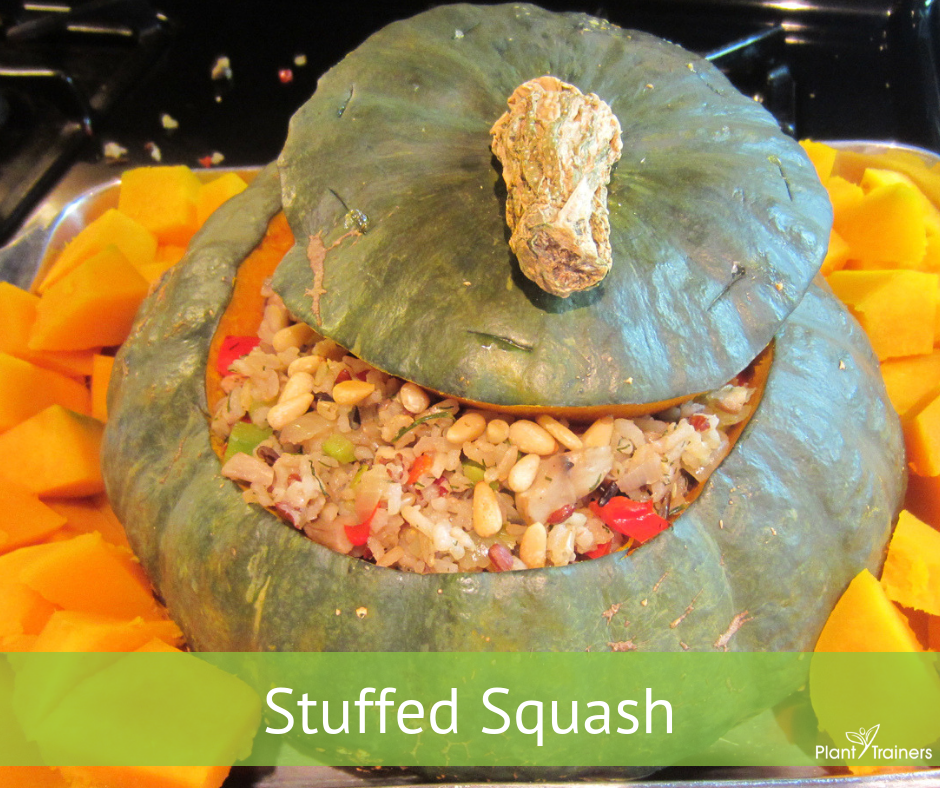 Thanksgiving…Makes you think of turkey, stuffing, pumpkin pie, gorging, feeling full, belly aches and more. This Thanksgiving we've changed that. After all, the only 'turkey' you will find at our table is Uncle Jim. Jokes – We don't have an uncle Jim 🙂
Here is an easy plant-based meal that's as beautiful as it is tasty:
Ingredients:
2 onions diced
2 stalks of celery diced
2 red peppers diced
4 cups mushrooms diced
4 cloves of garlic pressed
¼ cup of dill or any other herb flavor your family enjoys
4 teaspoons of organic vegetable soup mix – divided
1 Tbsp coconut oil
salt and pepper to taste
4 cups of wild rice medley
1 sugar momma squash (or any pumpkin-looking squash you want – maybe two or three acorn squashes)
1-second squash of your choice (This picture is butternut on the sides)
Pine nuts
Directions:
1.  Prepare rice medley according to instructions adding in two teaspoons of organic vegetable soup mix
2.  While rice is cooking microwave or bake your squashes until they are cooked, but firm.
If you are microwaving, flip halfway. Time will vary depending on size. You can keep checking on it.
If you are baking, leave sugar momma full with some puncture marks. Cut the second squash in half. Scoop out the seeds and place face down in an oven safe dish with a bit of water. Keep checking to see when it is done.
3.  Dice your vegetables
4.  Heat a large pan with the coconut oil
5.  Cook onions and garlic until translucent adding the rest of the vegetables about a minute apart
6.  Add the remaining soup mix, and salt and pepper to taste
7.  When the rice is ready add to the pan with the vegetables and cook a little longer
8.  Allow it to cool then top with pine nuts (or bake with them)
9.  When the sugar momma is ready and cooled cut off the top like you would a Jack O'lantern and clean out the seeds and strings
10. Place the sugar momma in the oven safe serving dish and stuff with rice and veg mixture
11. Cut up the second squash into chunks and place in the empty space in the dish
12. Put remaining rice in a bowl in case you run out
13. Last step…heat up before dinner and ENJOY!!
Happy Thanksgiving!
~ Plant Trainers