Print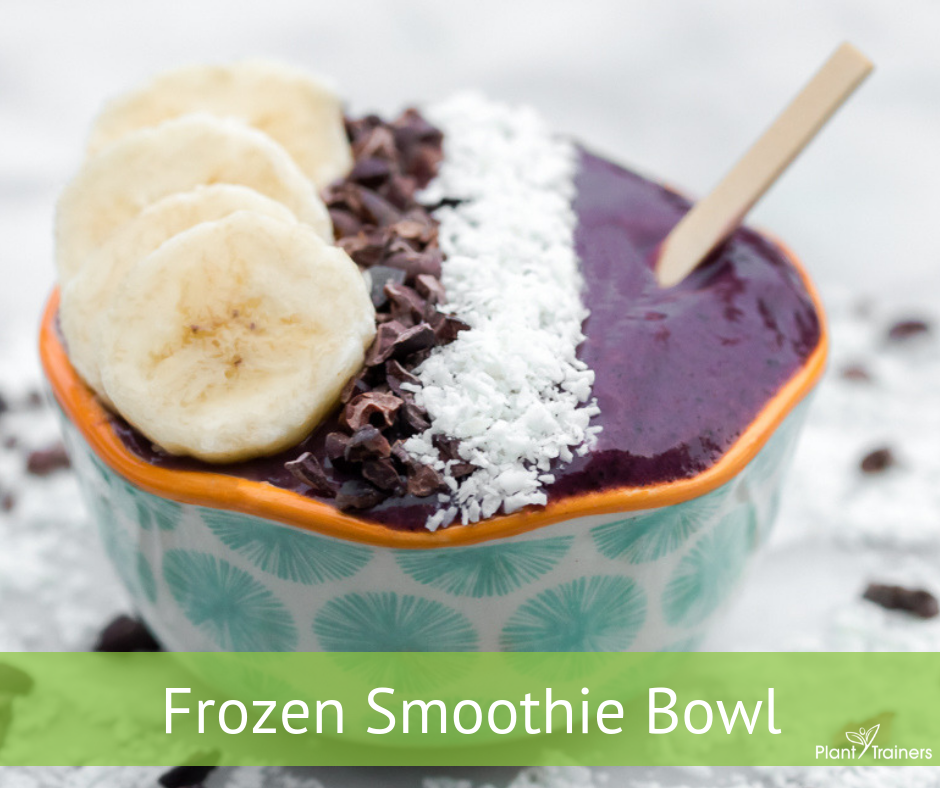 You'll never guess what is in this Frozen Smoothie Bowl. It's so nutritious you can let your kids eat it for lunch!
As an adult, I try to choose foods to eat that will benefit me inside and out. Of course, sometimes I do indulge, but I like to know that most of the time I am eating foods that really satisfy me, but have great nutritional benefits as well. This one has all the benefits that beans provide! Who doesn't want a bit of extra protein and calcium in their family's food?
As I sat down to type out this recipe I quickly checked my email first. I read Meghan Telpner's blog about the world not needing another green smoothie recipe. She hit a lot of marks in this blog and it totally falls in line with today's Plant Trainers Recipe.
This recipe is what I like to call a frozen smoothie bowl of goodness. It is kinda reddish/purplish depending what you put inside. And the best part is it eats like ice cream! You can imagine my kids' excitement when they had this awesome frozen smoothie bowl for lunch!
Try it out and feel free to change the fruits to whatever you have already. Most of the fruits need to be frozen, but you can use some fresh ingredients too.
Oh ya, and there is NO ADDED SUGAR or SWEETENERS of any kind!
This is enough to feed two little tummies, so feel free to double it!
Ingredients:
½ cup of fresh strawberries
½ fresh banana
½ cup frozen blueberries
a few chunks of frozen pineapple (~ ¼ cup)
¼ cup of boiled or canned beans of any kind (I used kidney and black-eyed peas in this picture)
(optional toppings): sliced banana, shredded raw coconut, cacao nibs, granola, goji berries
Let us know what you like to top it with!
Directions:
Add all the ingredients in the high speed blender (such as the Vitamix).
You can choose any of the fruits to be fresh or frozen as long as a about 50% of what you are putting in are frozen.
Using the tamper, push down all the ingredients on a medium speed. Once it begins to blend better, you can increase the speed.
You may need to add a table tablespoon (or two) of water or milk alternative to get it going…but don't over do it or you will end up with a smoothie…still delicious, nutritious and filling.
Pour into a bowl and top as you please. Or place the topping on the table and let everyone work their own magic.
Let us know what toppings you used in the comments below!
Enjoy!
~ Plant Trainers